New football stadium opens up with a victory
Monday, 9th August 2010.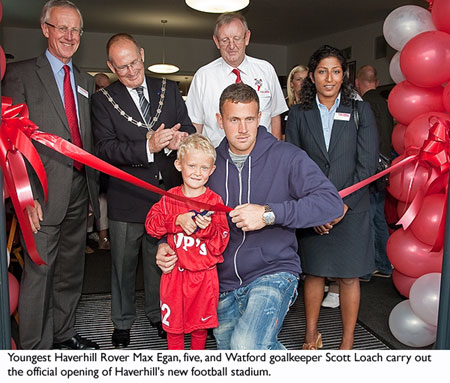 Haverhill Rovers celebrated the opening of the town's new football complex on Saturday afternoon in the best way, with a victory in their first league match of the season.
Before the game, which was attended by a good crowd of fans and representatives of local organisations which had helped the project, there was an official opening of the £2m New Croft.
Max Egan, aged five, the Rovers teams' youngest recruit, cut the ribbon, helped by special guest, Watford and former England under 21 goalkeeper Scott Loach.
Representatives of St Edmundsbury Borough Council, which led the project and was the main funder, and of the Football Foundation, which was another large funder, wished the project well in the future, pointing out the hard part was beginning now - to try to make sure everyone used the complex.
Tom Harrison, chairman of Haverhill Community Sports Association, which will run the facility, extended a warm welcome to everyone on what he called 'a historic and momentous day'.
It marked the achievement of something which had been over 30 years in the planning, he said.
"Many must have wondered if it would ever happen," he said, "and the truth is, it very nearly didn't. Going ahead with it has needed a considerable leap of faith on both sides.
He paid tribute to St Edmundsbury's sports development officer Howard Cook, who had 'done the hard miles, kept the balls in the air and kept the players on side', and. despite suffering horric injuries in a plane crash a couple of years ago, had returned to see the project through.
"Without him we would not be here today," he said.
Mr Harrison also thanked Suffolk FA for helping with a 'fantastic' football development plan, which was a key element in what was being provided.
And he thanked Haverhill Rovers' 'loyal and brilliant' captain Marcus Hunt, who was the heart and soul of the club and a fine role model on and off the pitch.
Finally he thanked Rovers' president Terry McGerty and chairman Steve Brown who had both 'donated more of their time to this club than anyone could reasonably expect'.
He urged the people of Haverhill to bring friends, children and grandchildren to the New Croft and ensure it was used by the whole community.
Fans and dignitaries watched the ensuing match against Walsham-le-Willows, which Haverhill Rovers won with a late goal 1-0, improving on the same fixture at the end of last season, the last match to be played at Rovers' former home of Hamlet Croft, when they only managed a draw.

Comment on this story
[board listing] [login] [register]
You must be logged in to post messages. (login now)