New fund raising card will help charities and businesses
Thursday, 21st July 2011.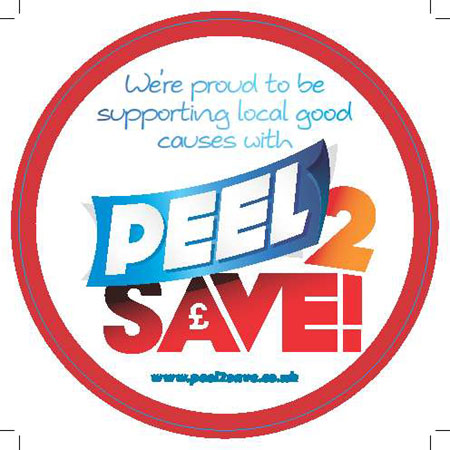 Two local business women, Jenni Donno from Social Media Success and Elaine Carr, owner of thebestofhaverhill, have joined forces to bring a new fund raising card to Haverhill.
Peel2Save was launched nationally in June after being successfully piloted in Solihull.
The Peel2Save fund raising card is a no-risk way for charities, schools, youth groups and other non-profit organisations to raise much needed money.
The credit card-sized Peel2Save cards fit neatly into a purse or wallet and contain 64 individual peel-off coupons with each coupon promoting an offer from a great local business. The card is sold for £10 by organisations and good causes and they keep £5 from every card sold.
The first Haverhill card will be available from the August 1 and is valid for 12 months. It contains offers from 29 different local companies, with the value of the offers being around £300.
Some of the great offers available include 20 per cent off your food on the main menu at Frankie & Benny's; a free Wet and Wild session at Haverhill
Leisure Centre
; 20 per cent off takeaways from the Raj Mahal Indian restaurant and 'buy any size pizza and get one free' from Papillon Pizza.
The Peel2Save cards are available to any not-for-profit organisation to sell to raise funds for their cause. The charities and good causes do not have to pay any money upfront, there is no minimum order and they can return any unsold, undamaged cards.
Elaine Carr said: "Peel2Save is a fantastic idea. It has been working very well in the USA for many years.
"It's a real community initiative, giving local businesses the opportunity to promote their businesses to local people. The offers have real value and broad appeal, there is something for everyone.
"Anyone who spends £10 on a card will soon recoup their money and will have also raised £5 for a charity or good cause. It's a definite win-win for local businesses, charities and good causes and local consumers."
There will be a Peel2Save launch event on August 18 at Days Inn Haverhill. The event will run from midday until 1pm and is an opportunity for charities and good causes to find out more about the initiative and to acknowledge the businesses that have supported the Haverhill card through their offers.
The Peel2Save initiative is hoping to raise around £2.5 million for charities and good causes nationally over the next twelve months.
Jenni Donno said: "It's really exciting to be involved with Peel2Save. It is so difficult for charities and good causes to access funds in these challenging economic times.
"Peel2Save provides a great opportunity for them to raise money quickly and easily, with no risk. If they sell just 100 cards they will have raised £500 and selling 1,000 cards would give them £5,000 – which would make quite an impact on anyone's fund raising target."
To contact Peel2Save Haverhill please call Jenni Donno on 07525 626265 or if you would like to find out more about the initiative visit www.peel2save.co.uk.
If you would like to attend the launch event please email haverhill@thebestof.co.uk by August 11.

Comment on this story
[board listing] [login] [register]
You must be logged in to post messages. (login now)