New Haverhill Food Bank Receives Mayor's Support
Friday, 11th July 2008.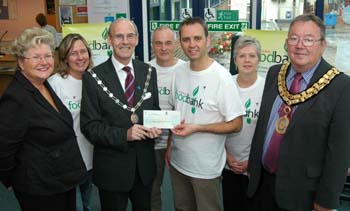 A new initiative in Haverhill has recently received a boost. The Haverhill Food Bank has been adopted by the Mayor of St. Edmunsbury, Cllr Robert Cockle, as one of his nominated charities.
Haverhill Food Bank is a community project supported by Haverhill & District Churches Together and is part of a national network of franchises offered by The Trussell Trust.
The aim of the Food Bank is to provide a safety net for the people of Haverhill and surrounding villages in times of crisis.
The Food Bank concept is a simple and unique one: the team will collect and store non-perishable food donated by members of the public at sites like supermarkets, churches, schools or charities and other groups.
People who receive these food boxes will have been assessed by Care Service professionals e.g. health visitors, probation officers, pastoral workers and others whose jobs bring them into contact with people affected by poverty. These professionals will issue a voucher that we will redeem at the Food Bank distribution centre.
It is our experience that unexpected events, like benefit delays or cuts, relationship breakdown, bereavement, or redundancy can put people into temporary financial crisis. When that occurs it can take a while before the official support networks take effect and in the meantime there is little by way of practical support available. The Food Bank will step into that situation and provide free emergency food until alternative support is received.
At present we are setting up the project and aim to start collecting the food in September to tie in with Harvest Festivals. The boxes will then be available for distribution shortly afterwards.
Community Project Manager Henry Wilson said: "This is fantastic news for us and for the people of Haverhill. Start up costs are a bit daunting and the support of the Mayor will make a real difference to our success and it will also help us to raise our profile in the area."
If anyone would like further details of how to donate or volunteer please call us on 01440 705196.
Picture shows: Cl Anne Gower, Sally Russo, Cl Robert Cockle, Gordon Savory, Henry Wilson, Ann Merrigan & Les Ager.

Comment on this story
[board listing] [login] [register]
You must be logged in to post messages. (login now)