New introductory scheme for novice golfers
Thursday, 14th March 2013.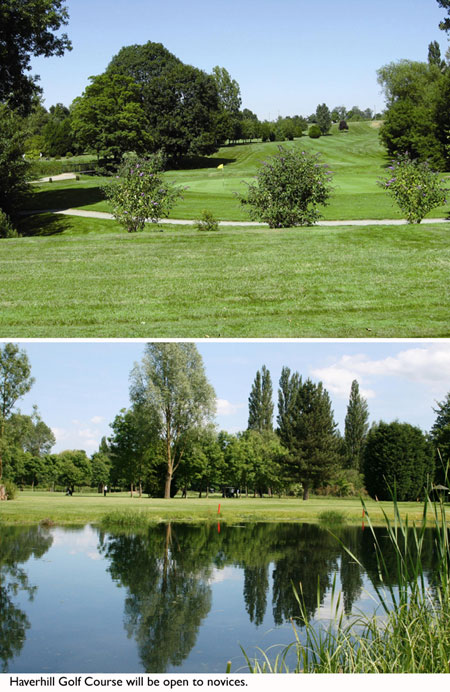 From April, the committee at Haverhill Golf Club is introducing a new category of golf membership for adult beginners.
This will give novice golfers the opportunity to belong to the golf club, to gain in confidence and experience out on the course before deciding whether to join as a five-day or seven-day member.
Parklands Academy Membership costs £360 for a year and allows those who are new to golf to play on a shortened 18-hole course off the blue tees, which is set within the existing layout.
Parklands Academy Members will be entitled to play at off-peak times, after 1pm during British Summer time, and after 11.30am during the winter months, when the course is quiet, so they can learn to play the course in a more relaxed environment.
Parklands Academy Members will also be given advice and guidance on the rules of golf and golf etiquette to help them on the road to becoming a fully-fledged golfer!
Paul Wilby, Haverhill's head professional, said: "Last year we ran a successful campaign to introduce adults to golf. A series of one-day coaching sessions was set up, during spring and summer, and these were followed up with a series of group coaching lessons.
"A proportion of those who attended decided to join the golf club, however there were a number of people interested in taking up golf, who felt they were not confident enough to play on the golf course.
"The committee's decision to introduce this new category of membership is an ideal way to bridge the gap for novice golfers.
"I have already received interest from those who participated in the golf coaching sessions last year and we are hoping to receive a good response to this new initiative in the coming weeks."
Haverhill's golf professionals will also be running another series of free golf days during March and April for adult beginners only. If you would like to book one of these sessions or to make further enquiries about Parklands Academy Membership please contact them direct on 01440 712628.
For more information about the golf club please visit www.club-noticeboard.co.uk/haverhill or contact the Club Manager Karen Wilby on 01440 761951.

Comment on this story
[board listing] [login] [register]
You must be logged in to post messages. (login now)