New Mayor's Promise To Raise The Profile Of Town
Friday, 2nd June 2006.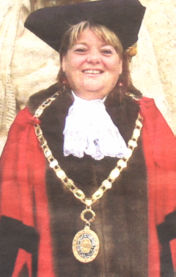 After 16 years working in the voluntary sector, but only three years as a councillor, Ann Thomas has taken over the role of Haverhill Town Mayor.
Councillor Thomas was voted in as the new town mayor on Tuesday at the annual meeting of the town council, taking over from Councillor Tim Marks. Councillor Ted Trebble was appointed as deputy mayor.
Although she has only served as a member of
Haverhill Town Council
and St Edmundsbury Borough Council for the past three years, Coun Thomas has been an active champion of voluntary groups for many years. She was a founder member of the Haverhill Association of Voluntary Organisations (HAVO) up to two years ago and is still a committee member of the organisation.
Despite ill-health, as a sufferer from ME, as well as arthritis and more recently being diagnosed with a wheat intolerance, Coun Thomas, 50, is looking forward to her year in office and hopes the turbulent times on the town council are now behind it.
She said: "I am absolutely delighted, I just think it is a huge honour and privilege to be asked.
"I have some very big shoes to fill, we have had some very good town mayors in the past. I would like to raise the profile of the town even more than it is alreadly and see the borough council start to spend some of the £10 million it has committed to Haverhill. Giving us pedestrianisation of the High Street might be a good place to start, which is one of my bug bears.
"I've chosen the Haverhill Advocacy and Mentoring Service as my mayoral charity, as HAVO was the lead organisation in setting it up."
She added: "The town council seems to be all working together now and encouraging people to take pride in the town. I was ill in bed when Gerry Kiernan first asked me to stand for the council, but I am definately glad I did."

Comment on this story
[board listing] [login] [register]
You must be logged in to post messages. (login now)