New physio facility opens at football complex
Friday, 5th November 2010.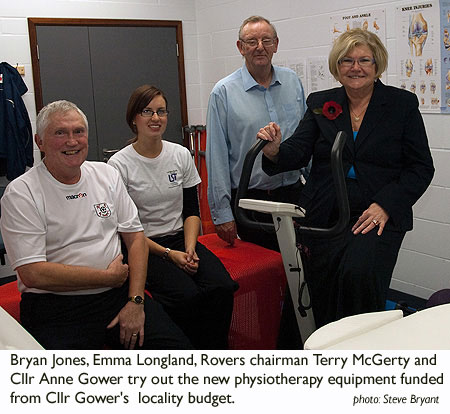 Haverhill Rovers players of all ages now have physiotherapy facilities at their home ground which are the envy of all their rivals, thanks to a local county councillor.
Cllr Anne Gower donated £2,800 from her locality budget to the club to equip a new physiotherapy room at the New Croft in Chalkstone Way.
The room is now up and running and club physio Bryan Jones says it has almost halved the time it takes him to get a player fit again after soft tissue injuries.
The donation has funded two special beds an exercise bike, numerous pieces of fitness equipment and, most important of all, a Compex machine, which treats soft tissue injuries in a similar manner to ultrasound.
"Teams visiting the town think it is great," said Bryan, "and can't believe we have such a fabulous facility. It has real wow factor for them."
Where players would have had to go to hospital or to a private clinic for treatment after such injuries, they can now be treated at sessions on site and be back in action between 40 and 50 per cent quicker, he said.
Rovers manager Peter Betts said it was the envy of other sides who visit and was helping to attract players to the club.
For local footballers whose injuries can impact on their main job, the prospect of quicker recovery is very attractive, particularly as many are self-employed.
The new facilities already had an effect recently when Dalton O'Brien was injured in a Tuesday evening game, but Bryan managed to get him back in action by the following Saturday.
But the facilities are not just for the first team and will help all of Rovers' more than 20 teams of juniors, ladies and the disabled team which they are starting up.
Rovers sports therapist Emma longland will also be running Longland Sports Therapy, offering the public injury prevention, treatment and rehabilitation as well as sports massage at the New Croft, and providing another source of club revenue.

Comment on this story
[board listing] [login] [register]
You must be logged in to post messages. (login now)