New State-of-the-Art Resource for Haverhill Business
Monday, 7th July 2008.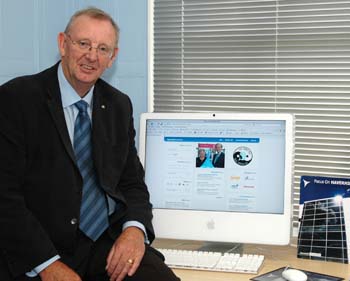 Following the recent unveiling of their new marketing campaign for Haverhill, business group Haverhill Enterprise has launched a new free service for Haverhill Business.
www.haverhillbusiness.co.uk
is an innovative, online resource developed to help businesses gain the information they need as fast and efficiently as possible, while facilitating business to business communication within the town.
Essentially an information gateway, the portal allows easy and instant access to useful web services from the AA, Google, Yell, XE and Wikipedia as well as displaying BBC Business News and weather, 24 hours a day 7 days a week. It also provides a 21st century platform for local business content, spanning events, news, employment trends, articles and reports on business issues.
Additional features include a powerful local business directory, listing over 1700 Haverhill organisations and nearly 700 businesses, and a new Haverhill business forum 'Business Talk'. 'Business Talk' connects business users encouraging discussion on industry topics and specific business issues. A number of local companies, including Suffolk Insurance Services, have pledged their support for this service and will be offering free advice from the forum.
Built using the very latest web technology, www.haverhillbusiness.co.uk offers several up-to-the-minute, practical features including the ability for each user to customise the portal's screen appearance, through moving the positions of services and links to suit individual preferences.
Haverhill Enterprise spokesman, Terry McGerty of Printwise Group explains:
"
www.haverhillbusiness.co.uk
is an important step in Haverhill Enterprise's objective of building a strong business community in the town. We want to inspire and encourage a culture of collaboration and co-operation.
"Information is the currency of innovation. At
haverhillbusiness.co.uk
business users will not only gain swift access to the entire web, they will also find links to everything they need to know about businesses in Haverhill, local services for business and useful facts and figures about the local economy. Haverhillbusiness.co.uk delivers an enterprising environment where business people can share knowledge, connect with peers, collaborate and share ideas year-round with no physical boundaries. It also provides a great opportunity for all sectors in Haverhill Business to enhance both their local and regional presence.
"A key aim is for the new web hub to become the single point of entry to all things Haverhill Business. With this in mind, local businesses are being urged to set www.haverhillbusiness.co.uk as their Home Page."
To get connected visit:

Comment on this story
[board listing] [login] [register]
You must be logged in to post messages. (login now)