New town business gets off to flying start
Friday, 24th October 2014.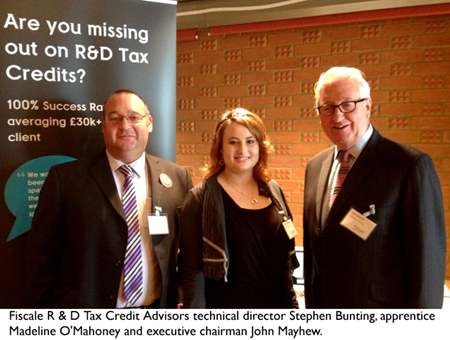 Start up business Fiscale have smashed their initial business plan forecasts for 2014, delivered an average of £30,000 in Research and Development Tax Credit savings for each of their clients and doubled their team in just eight months of trading.
The company, which was set up in February by John Mayhew and Stephen Bunting, specialises in helping organisations to obtain Research and Development Tax Credits.
The consultancy was born out of John's frustrations obtaining reliable advice on R & D Tax Credits several years ago as director of a software company.
Eventually John met accountant Stephen Bunting who, over a period of five years, helped secure over £300,000 of R & D Tax Credits for John's software company.
Following his retirement John decided to launch a business that could make it easier for others to access this valuable funding. With a 100 per cent success rate in claiming R & D Tax Credits Stephen was the ideal candidate for the position of Fiscale's technical director.
Based in Haverhill and serving clients across the Eastern region, the company appointed business consultant Keyth Rooney in July to look after the Cambridgeshire area.
Apprentice Madeline O'Mahoney joined Fiscale in August and is studying for a BTEC in Business and Administration while learning the intricacies of R & D Tax Credits.
The success Fiscale has achieved so far has surprised even the directors. John Mayhew said: "We set a realistic target for our first year in business and have actually achieved our goals in just eight months.
"Needless to say we are delighted. What is even more pleasing is our 100 per cent success rate on claims submitted and that our clients have on average received cheques in excess of £30,000 each from the HMRC.
"This money has made a significant impact on their businesses and facilitated investment in additional staff and resources."
The financial benefit for companies can be substantial as the scheme takes into account investment in R & D in their current year of trading as well as the two previous tax years.
Stephen Bunting said "There are misconceptions surrounding R & D Tax Credits. Businesses think if they don't wear a white coat and work in a laboratory they will not be eligible.
"In reality any organisation that is involved in making new or improved products or where the design and development involve some uncertainty are likely candidates.
"Our 100 per cent success rate is evidence that we do our homework first. It is not in our interest or our clients' to waste time by submitting claims that may not be successful."
Fiscale offer a 'no-win-no-fee' service, removing any risk for the client. The final word goes to successful R & D Tax Credit claimant Chris Grover, MD of software company DataStation.
He said: "I have no hesitation in recommending Fiscale to other businesses. This is one situation where the old adage 'if you think it's too good to be true it probably is', does not apply.
"For a few of hours of my time, under the expert guidance of Fiscale, I have secured a significant amount of money, from the R & D Tax Credits scheme, to reinvest in my business."
If you would like to contact Fiscale Ltd please call 01440 708333 or visit www.fiscalerdtaxcredits.co.uk to find out more about their services.

Comment on this story
[board listing] [login] [register]
You must be logged in to post messages. (login now)