Ninety-six golfers in fine weather Christmas cracker
Tuesday, 18th December 2012.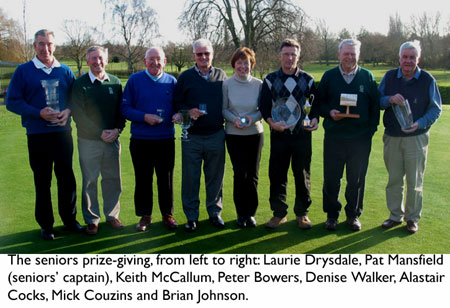 Haverhill Golf Club's head professional, Paul Wilby, organised the '2012 Christmas Cracker' which was played on Saturday, December 15. For once the weather was on side and conditions were good for the time of year.
The event was very well supported with 96 members from all sections of the golf club taking part in the pairs stableford competition, played off 7/8ths handicap.
Only one point separated the winners, Gavin Taylor and Howard Craven, who had an superb score of 44pts to claim first prize, each winning a golf 'stand' bag.
The runners-up had to be decided on countback; second place went to Roger Turner and Scott Turner each winning a Lyle & Scott golf shirt, and in third place were Steve Bush and Neil Saville with 43pts each winning a Ping golf shirt.
Paul Wilby gave the prize presentation afterwards and thanked all the competitors for their support on the day and throughout the year, especially for the junior fundraisers and pro-am events that he organises.
Mitchell Davis just had the edge on countback (back six) to win the Junior Medal on Sunday, December 16, with a score of 81-11-70.
Michael Perrett finished as runner-up with the lowest gross score of 75-5-70 and in third place was Richard Boyles with 79-6-73.
Dan Walker won the yellow tee competition with 100-27-73 and Joshua Hulyer was the runner-up with 114-25-89.
On Monday, December 17, Haverhill seniors held their annualmeeting and prize-giving. Prizes were awarded by seniors' captain, Pat Mansfield, as follows: winner of the Winter League 2011-12 was Alastair Cocks, the 2012 Summer League winner was Laurie Drysdale, the Brighter Futures pairs event winners Peter Bowers & Keith McCallum, the George Baker Cup Winner was Alastair Cocks, and runner-up Denise Walker, the Captain's Trophy Winner was Brian Johnson and last, but by no means least, the Whitewash Brush was awarded to Mick Couzins!
The presentation was followed by a Christmas lunch organised by the seniors committee, at the golf club's Parklands Restaurant.
Ufford Park hosted the latest meeting of the Suffolk Winter Alliance on Thursday, December 13, and, in all, a field of 59 players, including three professionals competed on a hard, frost-covered course and temperatures that stayed at or around freezing for the entire day.
The professional prize was won by Danny Barton of the Felixstowe Golf Centre, with a six over score of 77. In second place was Stuart Robertson (Ufford Park) with 79 and in third place Paul Connell (Hintlesham) with 85.
The Four Ball Better Ball Stableford was won by the Stowmarket pairing of Roger Peck and Mike Toon with 42pts, in secondnd place Gareth Morgan & Steve Carr with 38pts (Brett Vale) and in third place Stuart Robertson & Colin Aldous with 37pts (Ufford Park).

Comment on this story
[board listing] [login] [register]
You must be logged in to post messages. (login now)