Noah's scouting video gets a flood of attention
Tuesday, 11th March 2014.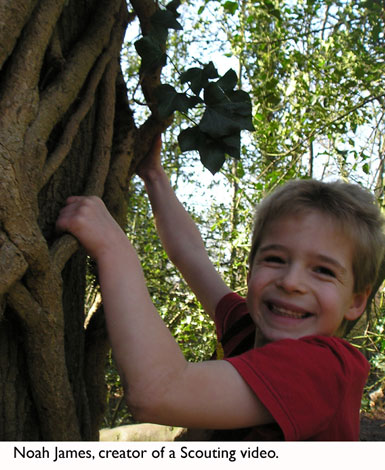 A video of a Haverhill youngster that urges people to get involved with Scouting has been picked up by the charity to be used nationwide.
Six-year-old Noah James made the short video 'I Am Noah' about his adventures with 1st Haverhill Beavers, which has attracted almost 4,000 YouTube views in little over a fortnight.
The St Felix Primary School student, from Broad Street, narrates the video, showing activities he and his friends get up to through his drawings.
UK Scouting has now distributed the video nationwide and echoed Noah's call for people to join and volunteer.
His dad Chris, an occasional helper with the Beavers who works at Scouting headquarters at Gilwell, said: "My son is really enjoying Beavers and has already got the Chief Scout's Bronze Award, and UK Scouting is always looking for great stories being told by young people as it's so much better when it comes from them.
"We do all sorts of activities such as sleepovers, community singing, making rockets and outdoor adventure games, and the kids love it and it made such an impression on Noah that he made these drawings.
"We thought we could animate it and get him to narrate it to make an engaging video that would be a great advert for Scouting.
"The key challenge is that we have 38,000 kids on waiting lists nationwide and we need more adult helpers so we can take more young people on and open more groups.
"UK Scouting has adopted the video as a national adult recruitment campaign.
"I'm incredibly proud of Noah as he drew it, wrote it and voiced it all himself, so it's entirely his work, which is also an amazing tribute to the work of the volunteers who put on such an inspiring programme of activities for the children, as Scouting is all about that positive experience."
There are around 80 children on the waiting lists for Haverhill's two Scout groups.
Duncan Batty, group scout leader of 1st Haverhill, said: "Scouting is about celebrating the talents and skills of young people and helping them reach their potential.
"This new campaign puts them at the heart of our drive to recruit more adult volunteers too."
For more information or to volunteer to help with one of Haverhill's two Scout groups, call Duncan on 01440 707317 or e-mail gsl@1sthaverhillscouts.org.uk
You can find your local Scout troop at scouts.org.uk/get-involved

Comment on this story
[board listing] [login] [register]
You must be logged in to post messages. (login now)