Official pat on the back for Havebury Housing
Thursday, 16th December 2010.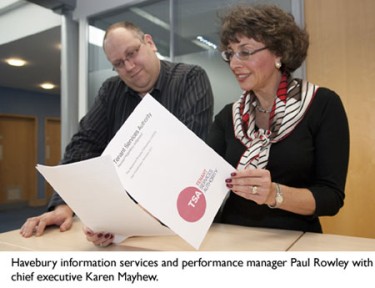 Havebury Housing Partnership tenants, many of them in Haverhill, are among the most satisfied in the country, a glowing report from the Tenants Services Authority (TSA) has revealed.
The TSA, which oversees housing associations in England, has just released its Regulatory Judgement on the main affordable homes provider in the town.
"Havebury demonstrates a positive approach to engaging with its customers and has a high level of tenant satisfaction with its services," says the report, which is available to view at www.tenantservicesauthority.org.
"All three satisfaction indicators are above the national average and tenant satisfaction with the overall services is within the top quartile nationally at 87.9 per cent."
Havebury was also praised for delivering the promises it made to its tenants when it took over nearly 6,000 homes from St Edmundsbury Borough Council in 2002.
The report adds: "Havebury has exceeded its promise at transfer to deliver 325 new homes in its first eight years. At March this year, 99.6 per cent of its stock met the Decent Homes Standard and the association will be fully compliant by December 2010."
Havebury chief executive Karen Mayhew said the report also commended the partnership for its tenant involvement strategy.
She said: "The TSA noted our commitment to ensuring our residents are an integral part of improving services.
"Mystery shopping, a tenant inspection scheme, estate walkabouts and a football training programme for youngsters are just some of the ways that residents can get involved at Havebury.
"We are dedicated to following the regulatory framework set out by the Tenants Services Authority and are pleased to see that our efforts have been duly noted in this report.
"We will now strive to ensure that the future of our services are just as well delivered under this guidance."

Comment on this story
[board listing] [login] [register]
You must be logged in to post messages. (login now)