Open verdict on woman who fell from window
By Jo Deeks on Thursday, 23rd May 2002.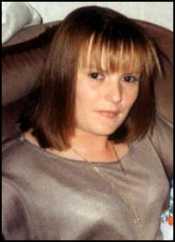 Emma Mayes
An open verdict has been recorded on a young computer analyst who fell to her death from her bedroom window at Haverhill last November.
Greater Suffolk Coroner Peter Dean said no-one could be sure whether Emma Mayes, 25, of Horsham Close, had fallen deliberately or accidentally. A Home Office pathologist's report showed she had died from multiple injuries after falling backwards from the window.
Craig Fitzpatrick, Emma's long-term partner, told the inquest he had seen her falling past the window as he was downstairs washing up in the kitchen. She had been feeling down because she was suffering from irritable bowel syndrome, but had shown no signs of being suicidal.
Mr Fitzpatrick admitted he had moved a chair away from the window and put some cigarettes nearby. He had believed initially that Emma had taken her own life and did not want other people to know this, because it was so out of character.
"She was angry that the doctors could not sort out such a simple little problem. Otherwise everything was normal.
"I had been due to go out motocross racing, but I said I would take her out instead.
"She had been smiling and laughing. I went downstairs to make some breakfast, heard her walking around and then I saw her falling past the window.
"My first thought was that she had done it on purpose and I did not want anybody to think she would have done that. I just wanted to protect Emma, she was not the sort of person to do that," Mr Fitzpatrick said.
Dr Michael Heath, a Home Office pathologist, said her injuries were consistent with falling from a height and there was no evidence of any third party being involved.
Detective Constable Jackie Mumford of Haverhill CID said the investigation revealed only that Emma had fallen tragically to her death from the window, not whether this was deliberate or accidental. It was accepted that Mr Fitzpatrick's actions were only to protect her memory.
Dr Dean said although suicide was a possibility, the death could also have been accidental, so only an open verdict was appropriate.
He said: "We cannot exclude the possibility of an accidental fall. She may have leaned out of the window to look at something, we just don't know."

Comment on this story
[board listing] [login] [register]
You must be logged in to post messages. (login now)