Outdoor workout area for children opened in park
Tuesday, 28th September 2010.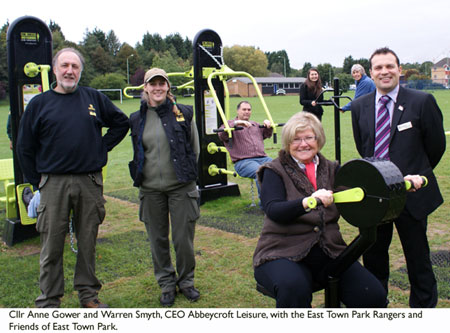 An outdoor gym for children and adults was officially opened at
East Town Park
in Haverhill on yesterday.
The 'green gym' comes in the form of play equipment and uses people's own body weight as resistance which mean it is completely safe for children and adults.
The gym has been funded by the Haverhill Partnership which provided £17,208 and Abbeycroft Leisure which contributed £1,278.
Three pieces of equipment, the cross trainer, the exercise bike and the hand bike, work the cardiovascular system to help increase fitness levels and build on the body's capacity to utilise the heart and lungs when exercising.
There are also three pieces of equipment which will tone up the body. The chest press and lateral pull down machine tone the chest and back muscles; the leg press tones leg muscles; and the oblique machine tones the side of the stomach.
Amelia Epton, Abbeycroft Leisure's sports development officer, who organised the project, said: "There has been some research around how green exercise has been shown to have a positive effect on a person's health so we were delighted to be involved in this project."
Cllr Anne Gower, St Edmundsbury Borough Council cabinet member for Haverhill, and The Friends of
East Town Park
, who have pledged to use the green gym regularly, attended the opening.

Comment on this story
[board listing] [login] [register]
You must be logged in to post messages. (login now)