Outgoing Chamber chairman praised for 'outstanding' work
Thursday, 14th June 2012.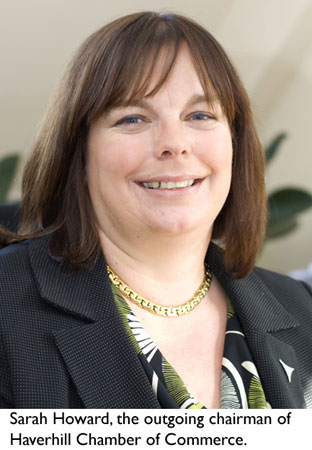 Tributes have been paid this week to the outgoing chairman of Haverhill Chamber of Commerce, whose work was recognised with a royal invite on Tuesday.
Businesswoman Sarah Howard has stepped down as chairman of the Chamber after a maximum term of four years' service to business in the town.
Sarah, 44, a director of Sarand Business Software, has been praised by colleagues for the 'outstanding' work she has done in raising the profile of Haverhill locally and nationally.
She was invited to Her Majesty The Queen's Jubilee Garden Party at Sandringham on Tuesday in recognition of her work to promote the town.
John Dugmore, chair of Suffolk Chamber of Commerce to which Haverhill Chamber is affiliated, said: "Sarah has done an amazing job as chairman of Haverhill Chamber of Commerce in the last four years.
"The Chamber has gone from strength to strength under her leadership and the profile of Haverhill has been raised not only locally but nationally, particularly in Westminster.
"We look forward to working with the new chairman when appointed to continue building on the Chamber's success and representing the views and needs of businesses in Haverhill."
The town'sMP Matthew Hancock added his congratulations and said: "Over the time I've known Sarah she has proved to be extremely helpful to me with her inside knowledge of the Haverhill business community.
"I admire her drive and enthusiasm which has helped to promote and enhance Haverhill's business reputation as a town on the up."
Sarah will remain in her position as board member of Suffolk Chamber of Commerce and continue to work to promote Haverhill's interests.
Justin Friend, vice-chairman of Haverhill Chamber, said: "Sarah has done an amazing job as chairman of Haverhill Chamber of Commerce.
"Sarah has ensured the Chamber is in a fantastic shape with a growing membership and reputation and on behalf of everyone both committee and members I would like to say a huge thank you for everything she has done to promote Haverhill and business in the last four years.
"People can sometimes forget that being part of the Chamber committee is a voluntary role and one which a small number devote a lot of time to on top of running businesses to ensure other firms in the town are heard."

Comment on this story
[board listing] [login] [register]
You must be logged in to post messages. (login now)