Outgoing mayor hands over charity appeal cash
Monday, 10th September 2012.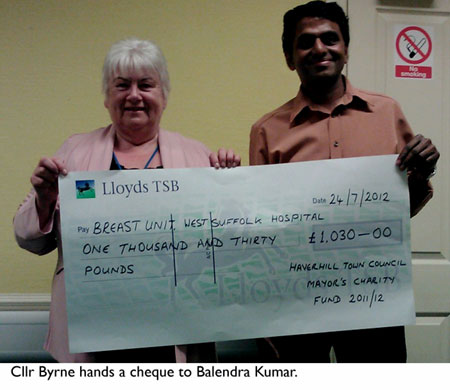 Outgoing town mayor Cllr Maureen Byrne has presented the proceeds of her Mayoral Charity for 2011/2012 to her two chosen charities - St Nicholas Hospice Care and the Breast Unit at West Suffolk Hospital.
Councillor Byrne raised a total of £2,060 through fund raising events and activities, and from donations, during her year as mayor.
At a recent town council meeting she expressed her great pleasure in presenting cheques for £1,030 each to Ian Norris, community fund raiser for St Nicholas Hospice Care, and Balendra Kumar, associate specialist in surgery at West Suffolk Hospital.
"These are two wonderful causes", said Cllr Byrne, "and I am so pleased to be helping them continue with their marvellous work.
"St Nicholas Hospice Care is well known to us locally for its extraordinary effort in providing practical, medical and spiritual support to local people and their families living with life-threatening and life-ending illnesses.
"And the breast unit offers life-saving diagnosis and removal of cancerous tumours. I have personal experience of the wonderful treatment given by Mr Kumar and his team, and it makes me very emotional to think that without them I would not be here today."
Responding to the presentations, Mr Kumar said: "I am honoured to receive this donation."
For St Nicholas Hospice Care, Mr Norris thanked Cllr Byrne. He went on to announce the forthcoming launch of a new initiative in Haverhill, and explained that the town had been chosen because it offered the best financial and moral support to the charity.
Cllr Byrne's successor as town mayor, Cllr Pat Hanlon, has announced that the National Autistic Society (NAS) Suffolk Branch will be his chosen charity for 2012/2013.
Cllr Hanlon said: "NAS Suffolk provides vital services to parents, carers and those affected by the disorder and it is my pleasure to be able to nominate them as my chosen charity.
"Among other things, NAS Suffolk help by going to parents' and carers' homes to give help and advice, a service that can only be offered by Social Services to the most pressing
cases.
"If you and/or your business can help with donations, raffle prizes or anything else to support his cause, please contact the Town Council - telephone 01440 712858 or email admin@towncouncil.haverhill-uk.com."

Comment on this story
[board listing] [login] [register]
You must be logged in to post messages. (login now)