Packed house for college's open evening.
Thursday, 8th October 2009.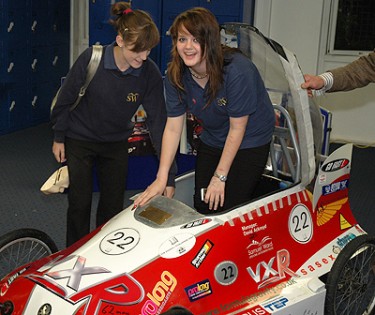 Hundreds of pupils and prospective pupils with parents, as well as representatives of Haverhill's social and business community descended on Samuel Ward Arts and Technology College yesterday for their open evening.
Visitors were able to walk around the 850-pupil college seeing the various subject areas in action, or take advantage of a conducted tour.
Head teacher Howard Lay gave a presentation about the college.
He explained it has a sophisticated data-gathering system to ensure every pupil is receiving the individual attention he or she needs to perform and challenge their peers.
Every six weeks pupils are assessed to ensure that their learning is improving and they are following the academic route prescribed by their teachers.
This information is shared between teachers and, more importantly, with the individual student and their parents to ensure that a three-way learning partnership is created and all parties are well informed of the child's progress.
Groups of pupils were at work in all areas during the evening, including drama, music, technology, ICT, art, food technology, hairdressing, languages, sports, geography, history, maths, English and science.
There were various quizzes, games and opportunities to challenge students, and a wide variety of cultures to encounter from a Crusader knight to a laser-cutting display.
Refreshments were provided by pupils raising funds for their World Challenge expedition to India.
* Our main picture shows students taking a look at Samuel Ward's gravity racer, which last year set a new speed record of over 62mph.
See our Photo Gallery of this event >>>

Comment on this story
[board listing] [login] [register]
You must be logged in to post messages. (login now)