Packed Summer Bash aims to pioneer new Haverhill Show
Thursday, 18th July 2013.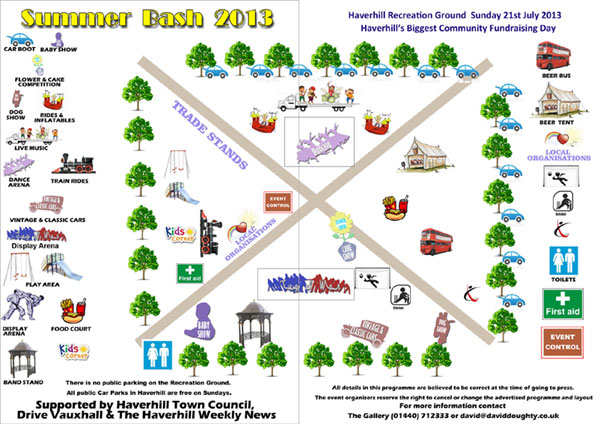 All is set for a tremendous day of fun in the sun on Sunday at the Haverhill Summer Bash on the recreation ground.
It is a rejuvenated version of the old Haverhill Show, combined with the town council's annual Summer Bash.
Local business people, led by photographer David Doughty, decided the current show did not reflect well enough on the town and went to the town council to put forward their own.
The town council was not connected with the current Haverhill Show, but agreed to work with Mr Doughty and his colleagues to produce a more ambitious summer event for residents to enjoy.
The aim is for the new organisers to eventually create their own Haverhill Show, but combining with the Summer Bash helped them to get the project off the ground.
That will depend partly on the success of Sunday's event, which at least seems to have picked on a good spell of waether.
The day starts at 9am with the car boot sale, with no cars allowed on till 8am. The main show starts at 11am with a display of cars in the display arena and then the town mayor will officially open the show.
Children will be invited to then enter the display arena for a fancy dress competition. There is no theme so anything goes.
The dog Show, flower and cake competitions will also start. All dogs, flowers and cakes must be entered between 10am and 11am. The flower comp is a posy table arrangement, cake competition is a Victoria sandwich - for further details contact Fiona Pilcher on 07889 444253.
The baby show will run from 11am till 2.30, with four age categories - newborn to under four years, but can enter at any time for £2 per child. First prize is £100 cash and a large canvas portrait.
Other events and displays include medieval fighting, ju-jitsu and touch rugby as well as a tug-of-war which is planned to start at 1pm.
Teams have been invited from local pubs and gyms but it is also open to teams of eight from businesses or the people of Haverhill.
A programme for the day is available from many local shops a few days before the Summer Bash for £1 and contains a treasure hunt for children with prizes for the first ones completed.
The programme also has a lucky draw number on it to win a year's free Cineworld unlimited ticket.
A raffle is also being organised with some amazing prizes such as a free MOT for life, an adult bike, signed football memorabilia and many others.
Samuel Ward will be holding a Dash and their speed will be taken by the police with their speed gun.
There are dancing displays and six local music acts throughout the day, Haverhill Silver Band on the bandstand, but all others will perform on the back of a lorry which will act as a stage.
Traditional games will also be played toward s the end of the day such as egg 'n' spoon, three-legged race and a wheelbarrow race where the public will be invited to enter (wheelbarrows will be provided).
Winners for the day will be announced at 4pm approx and then the show will close with music from Nice Manors.

Comment on this story
[board listing] [login] [register]
You must be logged in to post messages. (login now)