PC proves he's the Wright man for the job
Tuesday, 8th June 2010.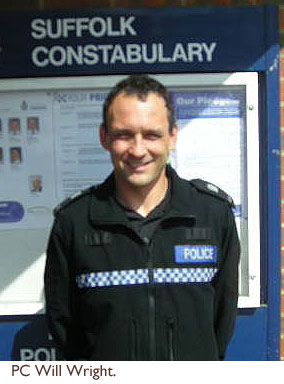 A Haverhill policeman receives an award today in recognition of his excellent work and is being put forward as Suffolk's representative for the national stage of the award.
PC Will Wright is receiving the Martin Smith Award, one of a number being presented at Suffolk force headquarters at Martlesham this afternoon.
It recognises the work of uniformed officers, and PC Wright, a member of Haverhill Safer Neighbourhood Team (SNT), was put forward for his work with young people and the community in general and his problem-solving abilities.
His direct superior Sgt Sarah Bartley said they had had a lot of messages of praise for his work from the community, which they included in support of his nomination.
Pc Wright, 29, joined the force in 2005 and after 18 months as a response officer joined the Haverhill SNT when it was formed in 2007.
Since then he has completed several programmes of cycling proficiency training for both Parkway and Castle Hill Middle Schools, and visited schools regularly to work with youngsters.
He has also proved very successful at solving problems within the community raised by members of the public.
Sgt Bartley said PC Wright summed up what the SNT was all about in this aspect of his work.
Haverhill's police chief, Insp Chris Galley, said he was extremely proud to have PC Wright as a member of his team.
"He is really good in his proactive approach to community issues," he said. "It is good for the people of Haverhill to have him in this town."
PC Wright will now go forward as Suffolk's representative in the national competition and will attend a ceremony in London along with contenders from other forces across the country.

Comment on this story
[board listing] [login] [register]
You must be logged in to post messages. (login now)