Petrol runs dry as panic fuels crisis
Thursday, 14th September 2000.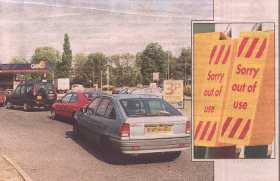 PETROL panic began this week as drivers rushed to claim the last dregs of fuel in the mounting crisis.
Long queues formed, with drivers hoping fresh deliveries of fuel had made it through to Mid-Anglia.
But many motorists were disappointed. Dozens of petrol stations ran out of unleaded petrol, and were running low on four-star and diesel.
Panic-buyers also headed for supermarkets, fearing food shortages as a result of the crisis.
Tesco spokeswoman Nicole Lander reassured customers that food deliveries were unaffected for the time being.
"We have plenty of fuel for that but are hoping for a quick and speedy end to this," she said.
(Picture caption: Panic Stations... drivers queue for petrol as supplies run low across the region. Many stations were completely sold out of unleaded fuel.)

Comment on this story
[board listing] [login] [register]
You must be logged in to post messages. (login now)