Plaudits for golf course from top professionals
Tuesday, 5th July 2011.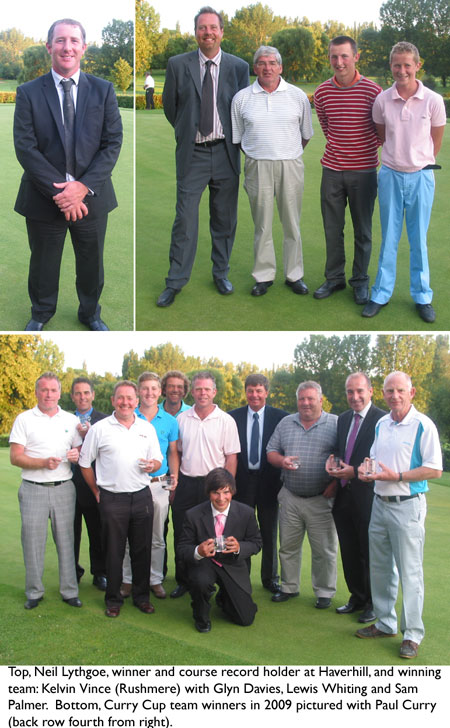 Haverhill Golf Club hosted its PGA East Region Pro Am on Friday, July 1. An impressive field of 43 professionals and their teams of three amateurs took part in the event.
Haverhill's head professional, Paul Wilby, said: "It is down to the fabulous condition of our golf course that so many professionals and amateurs took part."
He thanked the golf club staff, PGA organisers and volunteers for all their hard work. Wilby also extended his thanks to the event sponsors, M J Pipe Ltd, Greene King plc, DB Sheetmetals, Saffron Insurance and Stylize Display Graphics for their contribution to the event and Pro Am prize table. Without their support, the event would not have been possible.
Winning the professional prize and setting a new course record, with the new tees on second and seventh in play this year, was Neil Lythgoe from Royal Norwich with a six under par gross score of 64.
Neil said: "The greens were the best I've played on all year," and he went on to thank head greenkeeper Glenn Norris and his team for the fantastic job they had done in setting up the course to such a high a standard.
The runner-up with a five under par gross 65 was Paul Curry, representing Braintree Golf Club and in third place Ian Ellis of Costessey Park Golf Club with a three under par gross score of 67.
The team competition was a medal format, with the best two scores to count on each hole. It was won by the team of Kelvin Vince (professional representing Rushmere), Glyn Davies (Newton Green), Sam Palmer and Lewis Whiting (both Haverhill juniors) with an incredible 20 under par score of 120. The amateurs each won a Hillbilly electric trolley.
In second place was the team of Ian Ellis (professional representing Costessey Park Golf Club), Neil Augustine, Stephen Green and Alex Warren with a gross score of 121 (19 under par) and third place was shared by the team of Matthew Rice (professional representing John Letters Golf Academy), Mark Priestly, Cavan Kendall & Mark White and Paul Curry (professional representing Braintree Golf Club), Graham Smith, Phil Hyman and Owen Curry, both teams with a gross score of 125 (15 under par).
After the prize presentation, Paul Curry, former PGA Tour Player, joined members of Haverhill's 2009 winning Curry Cup Team for a photograph to celebrate a very proud moment for the Golf Club.
Paul first presented the Curry Cup nine years ago, when the event was created to allow golfers with handicaps from scratch up to 18 to compete and gain experience in match play competitions, and since then the event has grown to include 15 clubs from both Suffolk and Essex.
The final in 2009 was, in fact, an all-Suffolk contest with Haverhill just beating Felixstowe at Colchester, and both teams reached the semi-final stage of the tournament in 2010.
On Wednesday, June 29, Haverhill members Jim Walker and Peter Bowers just dipped out of a victory when they finished joint second with 42pts at the Richmond Park Norfolk Seniors Open, among a field of 56 pairs.
On Saturday, July 2, the mixed match against Girton was played at Haverhill. There were six pairs taking part from each club, and the overall result was a commanding 5-1 victory for the hosts, although two of the matches were halved.
The full results were (Haverhill players first): Gordon Price & Marian Mercer won 7&6 against David Upchurch and Joan Grayer, Roger Campbell & Anna Fairhead won 1 up against Bas Driver & Jaqui Story, Ted Fairhead & Jane Herrington halved their match against Drew Wilkins & Annie Wilkins, Brian Crosbee & Sheila Price won 2 up against David Curtis & Jean Curtis, Keith McCallum & Doreen Crosbee halved their match against Stewart Aitkin & Paula Aitkin and finally Peter Mercer & Pat McCallum won 2&1 against John Cooke & Sue Leadbeater.
The men's July medal was played on Sunday, July 3. Following the success of the Pro-Am on Friday, a massive field of 96 entrants took part!
The overall winner, with a fabulous nett 65, was Dennis Harkness who has now had his handicap cut to six.
The full results were: Division One, 1 Dennis Harkness 72-7-65; 2 Andy Fish 71-4-67 (lowest gross); 3 Lewis Whiting 76-9-67.
Division Two, 1 Chris Williams 84-18-66; 2 Roger Turner 86-19-67 on countback; 3 Matthew Farlie 81-14-67.
Division Three, 1 Chris Shipp 87-21-66; 2 Andrew S Martin 88-21-67 on countback; 3 Mark Wray 91-24-67.

Comment on this story
[board listing] [login] [register]
You must be logged in to post messages. (login now)