Plenty of tense tennis in junior open championships
Monday, 15th August 2011.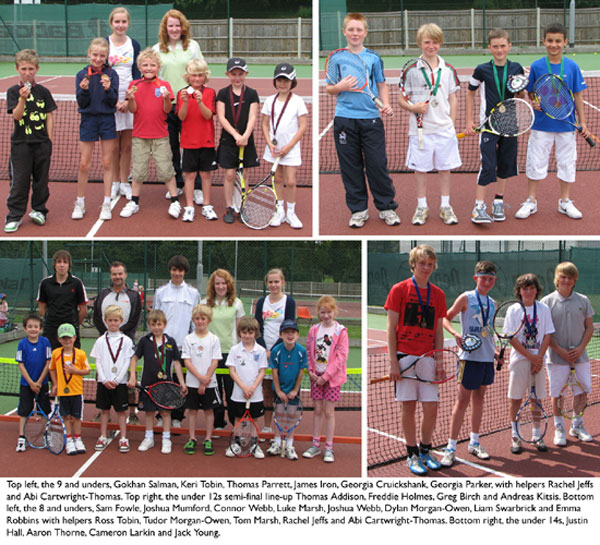 Haverhill Tennis Club opened its doors for its annual Open Championships last week.
The red event for the eight and unders started the week off with ten players from various clubs around the region.
Twins Joshua and Connor Webb had a great tournament with both boys qualifying for the semi-final.
Jason Butler, who was playing in only his second tournament, was unlucky not to go through to the semi-final after two wins in his group.
Dylan Morgan-Owen and Liam Swarbrick also had two wins but missed the cut. Luke Marsh bt Joshua Mumford 10-3 in one semi-final and Connor Webb just got the better of his brother Joshua in a very tight game 10-8. Joshua had another close game against Joshua Mumford but just missed out, losing 10-7.
The final between Connor and Luke was a close match with some really long rallies. Luke finally won 13-11 to win consecutive tournaments at Haverhill.
The nine and under orange ball event had some very close matches with nine players from Haverhill, Newmarket and Bury. Thomas Parrett had a great tournament beating James Iron, Laurie Cruickshank and Keri Tobin on the way to the final.
Georgia Parker also had a great event beating Holly Robbins and James Hudson to make her way into the semi-final. Alex Swarbrick, though, was the star of the event and after a close match with Keri Tobin made his way comfortably through to the final.
Holly Robbins, who was playing in her first orange ball event had some close matches and did herself proud. In the third/fourth play-off Keri just managed to get the better of Georgia Parker and Alex beat Thomas in the final 7-2, 7-2.
In the nine and under doubles event, Thomas and Keri paired up for their first match against the number one seeds Laurie and Georgia and after losing the first tie-break 7-4 and saving a match point they won the next two tie-breaks 9-7, 7-4.
James Iron and Gokhan Salman also did well, beating the number two seeds in a close match, the brothers Liam and Alex Swarbrick, 8-6, 10-8. Thomas and Keri then beat James and Gokhan 7-4, 7-4 in the final. Gokhan was extremely happy, winning his first medal in tennis.
The under 12s boys' event played over three days had some great matches with Freddy Holmes beating the number two and three seeds Angus Parsonson and Andreas Kitsis on his way to the semi-final.
Number one seed Greg Birch had an easier path through to the semi-final losing only one game against his opponents. New tennis club members Jake Frisby and Joshua Webb, playing in their first tournament had a great time playing their games, with Joshua unlucky to lose three of his matches on tie-break sets.
Greg played Andreas in one semi-final and after some long games came through 4-2, 4-0. In the second semi-final Freddy beat Thomas Addison 4-0, 4-1 who had done exceptionally well to qualify for the last four, this being his first tournament.
Andreas beat Thomas in the third/fourth play-off over three sets and Greg lived up to his top billing to beat Freddy 4-2, 4-2 in a great final.
The under 14s boys' event didn't get off to a great start with James Grocott turning his ankle over in the warm-up and unfortunately not able to take part in the event.
Jack Young played some great tennis, beating Justin Hall and Jack Davis to qualify for the semi-finals. Aaron Thorne had a three-hour match with Cameron Larkin and eventually won it on a third set tie-break.
Thankfully Aaron's matches against Rory Elston and Joel Brinkley were a lot shorter. Both Cameron and Aaron qualified for the semi-final but were placed on opposite sides of the draw.
Cameron had a tough match against Jack Young, this match also going to a third set where Cameron won 10-7 in the final set tie-break.
Jack then played Justin in the third/fourth play-off after Aaron had beaten Justin 6-2, 7-5 in another close match. Jack had previously beaten Justin in the round robin stage but it was Justin who eventually won 6-4, 6-3 to take third place.
Aaron then played Cameron in the final but this time the game only lasted a couple of hours as Aaron won 6-2, 6-4. The juniors all played their matches in the true spirit of the game and were a credit to their parents.
If you would like more information about the tennis club then please visit www.haverhilltennisclub.co.uk for more information.

Comment on this story
[board listing] [login] [register]
You must be logged in to post messages. (login now)