Police Hunt Armed Hijacker In Haverhill
Tuesday, 9th June 2009.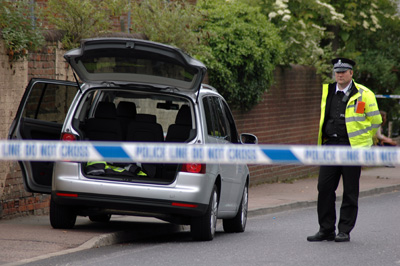 Police officers cordon off road to examine hijacked vehicle. Photo: Steve Bryant
POLICE have warned the public not to approach a man who is thought to be armed and dangerous.
Robert Inman, who is 36, stole a Police van from two officers at gunpoint in Orton Malbourne, Peterborough at around 3pm yesterday after the officers had attended a routine dispute.
The officers were left at the scene, unharmed.
Inman drove the van out of the city and it was later found abandoned in a gargage at Norman cross, near Yaxley, Peterborough.
It is believed he then ran across fields before hijacking another car - a silver Volkswagen - at gunpoint from a member of the public. The driver was left unharmed.
The vehicle Volkswagen was found abandoned in Withersfield Road, Haverhill at around 5pm. Police Armed Response Officers closed off a section of the road for more than an hour while they carried out a search of the area, while the Cambridgeshire police helicopter circled overhead.
Chief Superintendent Mick Gipp said: "We are working as quickly as possible with our neighbouring forces to bring this incident to a swift and safe end.
"No-one should approach Inman. He has so far held three people at gun point and has stolen two vehicles."
"And I would make a plea to Robert - please hand yourself in to officers."
Inman is described as having blond hair with a dark blue stripe down the middle. He was wearing light blue jeans, a pale coloured dirty GAP hooded top with black gloves and a light coloured jacket with epaulets on the shoulder.
Photo: Steve Bryant

Comment on this story
[board listing] [login] [register]
You must be logged in to post messages. (login now)