Police work with residents to keep children safe
Tuesday, 23rd September 2014.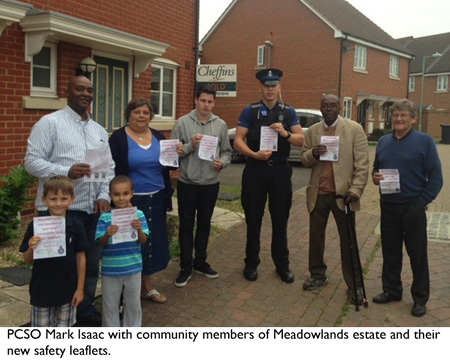 A police project has helped residents on an estate to keep their children safe when they are out playing.
PCSO Mark Isaac was asked by Delroy Watson, a local community member of the Meadowlands estate, for their help with trying to keep the local children safe while out playing with their friends.
PCSO Isaac worked with Mr Watson and together they agreed to create a leaflet which is urging motorists to slow down. PCSO Steven Ridpath took time to put together and create an eye-catching leaflet.
The community raised concerns that there were a lot of parked cars on the road in Meadowlands which was making it hard for young children to be seen.
PCSO Isaac said: "While the majority of the local community take their time driving through the estate, visitors to houses perhaps do not.
"The main message of the leaflet was to remind and ask that when the local community invite friends and family members over, they remind them to take their time through the estate being vigilant for children, as many visitors perhaps would not expect to see as many children playing outside."
PCSO Isaac and PC Wright conducted the leaflet drop with various members of the local community on Thursday, September 11.
PCSO Isaac said: "The response from people who we spoke with of the local community was fantastic.
"They loved the idea and we even had more volunteers come out and help us post over 200 leaflets. This truly showed some great local community spirit and how there are still really close communities that care for each over."
The police and the volunteers spoke about other ways in which they could try to help slow motorists down. One idea which they hope to progress is asking the children of Meadowlands to create their own 'slow down' posters.
They then hope to source funding and get them put onto signs for all motorists to see.

Comment on this story
[board listing] [login] [register]
You must be logged in to post messages. (login now)