Polley vows to finish higher
Thursday, 21st October 1999.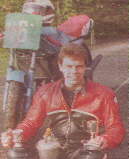 MOTOR cycle racer Simon Polley, from Horseheath, has finished 13th in his first season of Formula 600 Championship races, despite a crash which left him unfit for the final round.
Polley was cheered to learn that loyal sponsors Treadfirst Tyres will continue to provide his racing tyres and fitments next season, when he hopes for an even higher finish.
He took part in rounds 12 and 13 of the championship at Cadwell Park, where the damp, cold track surface put him at a disadvantage because of his lack of tyre warmers. After two difficult races he finished 17th and 14th, the first time he had finished outside the points in the last six championship rounds.
The next day started better until he missed a bend on a difficult right-hand corner, his bike high sided and he was thrown in front of it. To add insult to injury, the bike hit him in the back as he slid down the track and he was lucky to escape with only bruising and no broken bones.
During the next week he struggled to get fit for the final championship round at Brands Hatch, but was disappointed to have to cancel his entry.
"Although the repair bill for the accident damage may restrict my chances of a full engine rebuild and hence power boost, I am confident I will improve on my performance in the New Year," he said.
"At the begining of the season I would have been happy to have gained one championship point, but to get 31 points and achieve 13th in the championship was a great boost. Next season I will set my sights higher with the hope of a top-10 finish in the championship," said Polley.
Picture caption SIMON POLLEY . . . finished 13th in his first season of formula 600 Championship.

Comment on this story
[board listing] [login] [register]
You must be logged in to post messages. (login now)