Poster campaign to keep Halloween celebrations 'responsible'
Tuesday, 25th October 2011.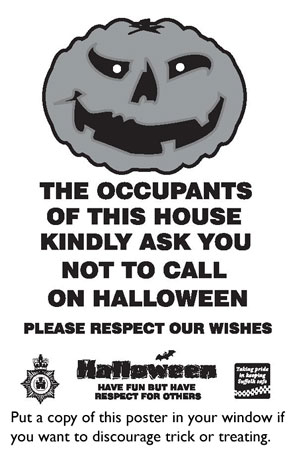 Trick or treaters in Haverhill are being urged by police to take a responsible attitude to Halloween this year and ensure that it is a happy and safe time for everyone, whether young or old.
In the run up to Halloween, officers from the town's Safer Neighbourhood Team (SNT) are working with shops, asking them to display posters stating that flour and eggs will not be sold to under-16's who are not accompanied by an adult in the run-up to Halloween.
Halloween celebrations often involve young people taking part in trick or treat activities. Unfortunately, in previous years this has involved a minority of youngsters across Suffolk throwing eggs and flour at houses or people after the occupants decline to give them a treat.
Any damage caused by egg throwing will be treated as criminal damage, and those caught throwing eggs will be prosecuted. If they are found guilty this will result in a criminal record.
A second poster asks parents to think about the safety of their children and asks if they would normally let their children call on a strangerís home unsupervised. These posters are being widely distributed to schools and businesses.
If you donít want to be bothered by trick or treaters this Halloween, a third poster is available to place in the front door or window of your home, or that of a vulnerable neighbour or relative.
Copies of this poster can be collected from your local police station or can be downloaded by visiting the Suffolk Police website www.suffolk.police.uk or via their Facebook page www.facebook.com/suffolkpolice
It is hoped that the privacy of those people who clearly indicate that they do not wish to be involved in Halloween will be respected and trick or treaters will move on.
Sgt Sarah Bartley of Haverhill SNT said: "Not everyone wants people knocking on their doors for Halloween. If you have a problem, please give us a call.
"Police will be on special patrols over the coming weekend."

Comment on this story
[board listing] [login] [register]
You must be logged in to post messages. (login now)