Praise for town at two upbeat opening events
Friday, 16th July 2010.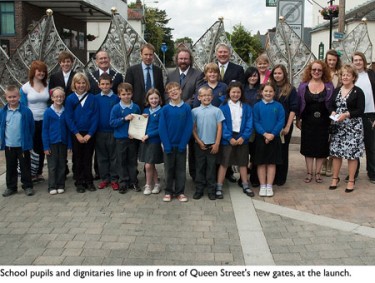 Today has been hailed as a great day for Haverhill as the launching of the prestigious new gates for Queen Street followed closely on the heels of the opening of a new £100,000 business training centre.
Crowds flocked to Queen Street to see the new gates, with the launching ceremony involving local schools who helped design and make them.
Earlier Menta had officially unveiled their new business and training centre, refurbished in the former Miller Graphics premises in Hollands Road.
Both openings were performed by Haverhill's new MP Matthew Hancock, who took the opportunity to praise the town, which he said currently had a 'real vibe' about it and was clearly 'on the up'.
You can read details if both events, with more pictures further down our news pages.

Comment on this story
[board listing] [login] [register]
You must be logged in to post messages. (login now)