President wins golf club's invitation day
Tuesday, 27th July 2010.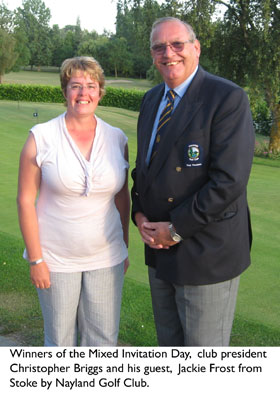 Haverhill Golf Club's Mixed Invitation Day was played on Sunday, July 18, and was won by Haverhill president Christopher Briggs and his guest, Jackie Frost from Stoke by Nayland, with a fabulous 46pts.
In second place was Haverhillís lady captain, Sally Price and her guest, Roger Jacobs from Flempton, with 44pts and in third place Colin Durston with his guest, Carol Durston from Newton Green, with 43 pts.
Nearest the pin for the ladies was won by Carol Dent, and the longest drive for men was by Mr G Pomphrett.
The menís midweek medal was played on July 14, and there were plenty of low scores across the divisions.
Michael Warren claimed the overall victory with a superb nett 63 and has subsequently had his handicap reduced to seven.
The full results were: Division One, 1 Michael Warren 71-8-63; 2 David Pipe 72-5-67; 3 Andy Fish 74-5-69.
Division Two, 1 Gavin Hatton 82-17-65; 2 John Stokes 83-17-66; 3 Ivan Drury 83-17-66.
Division Three, 1 Patrick Bowes 90-23-67, 2 Jim Mulley 94-25-69; 3 Ian Raper 94-24-70.
The July Midweek Stableford, played on July 21, was won by Haverhill junior Lewis Whiting with a fantastic score of 45pts. Lewis, who was playing off a handicap of 15, had his handicap cut by three to 12.
The full results were: Division One, 1 Andy Fish 40pts, 2 Mark Barrett 39pts, 3 Alan Carter 38pts. Division Two, 1 Lewis Whiting 45pts, 2 Adrian Moore 39pts, 3 John Stokes 36pts. Division Three, 1 Mick Couzins 38pts, 2 Jim Mulley 38pts and 3 Charlie Tapp 36pts.
On Saturday, July 24, Haverhill Golf Club joined the National Golf Club Challenge to raise funds for Help for Heroes, the largest amateur golfing charity event to take place in the UK.
Capt David Humphreys, of 33 Engineer Regiment (EOD), who is a member of Haverhill Golf Club, organised the dayís fund raising events.
In total, £1,076.31 was raised for the Help for Heroes Charity and David thanked everyone for their support and for the volunteers who assisted on the day, especially Steve Ward, Mick Turner, Dick Sisman, Lyn and Andy Fish, Heather Eldred and Theresa Spittle.
Congratulations go to the overall winner of the Stableford competition, Malcolm Klingle, scoring an amazing 45pts, reducing his handicap by two shots to 11.
The full results of the menís Stableford were: Division One, 1 Charlie Hudson 41pts on countback, 2 Andy Fish 41pts on countback, 3 Mark Stanton 41pts. Division Two, 1 Malcolm Klingle 45pts, 2 Steve Nichols 42pts, 3 Joe Davis 39pts. Division Three, 1 club captain, David Chapman 42pts, 2 Martin Mansfield 39pts, 3 Chris Mellings 38pts.
The results of the Ladies Stableford were: 1 Sue Carr with 38pts, 2 Theresa Spittle 37pts, 3 Sheila Playle 36pts on countback from Mary Sail in fourth place also with 36pts.
Winners of nearest the pin on the second were Geoff Bush and Pauline Calmet, on the eighth Richard Boyles and Lyn Fish and on the 12th Gordon Price and Sue Carr.
Longest drive on tenth Chris Vince and Sue Carr, longest drive on 18th Mark Gilson. The putting competition winners were Colin Rudge and Bob Spittle.
The clubís top ten scores from the menís and ladiesí section will be entered into a national draw to compete at the national final at The Belfry.
The eventual 2010 National Golf Club Challenge winners will be presented with the Lee Westwood Cup, a stunning golf trophy, commissioned and donated by Wedgwood especially for the Challenge competition, in aid of Help for Heroes.

Comment on this story
[board listing] [login] [register]
You must be logged in to post messages. (login now)