Prestigious visitor will raise town's profile
Thursday, 29th October 2009.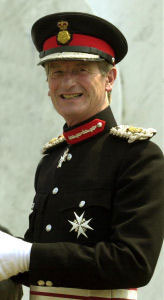 Haverhill Chamber of Commerce has announced it will be hosting a visit to Haverhill by the Lord-Lieutenant of Suffolk on November 17.
Lord Tollemache K St J, JP (pictured), was appointed by the Queen in 2003, having held the position of vice lord-lieutenant since 1994.
A farmer and landowner in Suffolk, Lord Tollemache has considerable experience in business and holds non-executive directorships with several companies including leading insurance provider, Fortis UK.
Sarah Howard, chairman of the Haverhill Chamber said: "This is a major coup for Haverhill and is a further demonstration of the credibility that the town is gaining in the region.
"We are weathering the recession and we have every reason to be optimistic about the future. Lord Tollemache is a highly respected and influential figure in the county. I am delighted that he is coming to find out for himself about the enterprise and energy that provides the foundations for Haverhill's continued success."
Lord Tollemache contacted Sarah after reading her open letter to Suffolk County Council expressing concern about the Boundary Commission's proposal for a unitary boundary as opposed to the option of a three unitary system which is widely favoured in the local area. Lord Tollemache wrote to her and a visit to Haverhill was arranged.
Sarah said: "We have planned the itinerary for the day to demonstrate enterprise in action within Haverhill. The visit coincides with Enterprise Week at Castle Manor Business and Enterprise College and Lord Tollemache will experience just how enterprising our young people are when he visits the business and training centre at the school.
"Students from both Castle Manor and Samuel Ward Arts & Technology College will have the opportunity to meet Lord Tollemache.
"We have also planned to take Lord Tollemache to several local businesses so that he can see the diversity of products and services that our talented town is capable of producing. He will then other meet members of the business community over lunch.
"The Haverhill Chamber believes that this visit increases our town's visibility in the county and is as an opportunity to promote the benefits the town has to offer and to enhance our attractiveness for inward investment.
"A number of High Street names have invested in Haverhill over the last two years – including Iceland and Tesco. These companies have created jobs and enhanced the retail offer, helping to make Haverhill a more attractive proposition to the people who live and work in the town.
"However this has to be just the beginning – there is still so much work to be done if we are to create a thriving and vibrant town. A visit from such a prominent and active figure within Suffolk can only help us to achieve this. If we can show Lord Tollemache what a fantastic, enterprising place Haverhill is who knows...?"
The Lord-Lieutenant will be the second of the county's top dignitaries to visit the town within two weeks, as the High Sheriff will be here on November 6.

Comment on this story
[board listing] [login] [register]
You must be logged in to post messages. (login now)