Primary academy elects its first head boy and head girl
Thursday, 12th December 2013.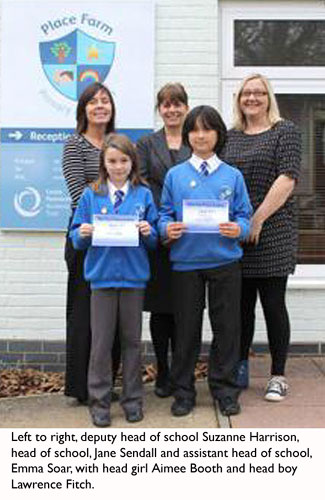 Place Farm Primary Academy appointed its first head boy and head girl last week.
The role is a newly instigated one and provides an opportunity for pupils to represent their academy in a variety of ways.
Pupils from year six were invited to put themselves forward for the position, after which an election took place.
The candidates had to complete an application form detailing what they would bring to the role. From here, two boys and two girls were short-listed by the assistant heads of school.
These four candidates then prepared a presentation explaining why they should be selected for the post.
Following the delivery of the presentation during key stage two assembly, pupils in years three to six cast their votes.
The two candidates successful were Lawrence Fitch and Aimee Booth. They are both very proud to be selected and are looking forward to representing their aAcademy.
Aimee Booth said: "I'm proud to be the first head girl and will take care to be the best representative for the academy I can be."
She is in year six and is looking forward to heading off to Castle Manor Academy next year.
"I've been really pleased to be involved with the Partnership and take part in all the opportunities that allows," she said.
The role is one that will develop over the coming years and will start with the pupils becoming figureheads for many events at the academy.
They have already been working with representatives from Castle Manor Academy to deliver a presentation to head teachers from across Suffolk and are looking forward to taking an active role in presenting upcoming Christmas performances.
Emma Soar, assistant head of school at Place Farm Primary Academy, has been working with pupils to prepare for the process.
She said: "This is an exciting and new role for us and is a natural extension of our successful house system, which works across the Partnership.
"Pupils feel proud to be part of our community and this is another way of recognising and encouraging that pride."
Mrs Soar helped the pupils to prepare their presentations and will help to develop the role in the future.
She said: "We hope to encourage our head boy and head girl to take a very active role in the life of our academy and will listen to their ideas and suggestions for future development."

Comment on this story
[board listing] [login] [register]
You must be logged in to post messages. (login now)