Queen Cleopatra on tour round here this week
Tuesday, 23rd July 2013.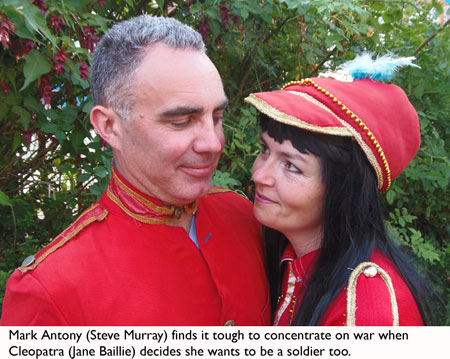 A group of local actors takes to the road this week in and around Haverhill with an outdoor Shakespeare production.
Outspoken Theatre's 12th annual 'tour' opens in Stoke by Clare on Thursday evening and visits Chedburgh, Castle Hedingham, and Haverhill before finishing at Hundon Plough on Wednesday next week.
The play this year is Antony And Cleopatra, with the 15 actors playing a cast of thousands in an epic sweep across the Mediterranean between Rome and Egypt, including two sea battles.
The group, drawn mainly from the ranks of Haverhill's Centre Stage Company, comes together for six weeks each summer to tackle the Bard, and among its past triumphs have been Much Ado, Macbeth, The Merchant Of Venice, Richard III and As You Like It.
The world-famous – and scandalous – lovers are played by Steve Murray and Jane Baillie and the play is directed by David Hart.
Antony, part-ruler of the regimented Roman Empire and the greatest soldier of his day, has fallen under the spell of Cleopatra and fun-loving Egypt, where alcohol (and other substances) have reduced him to 'a strumpet's fool'. Can he drag himself away when Rome needs him?
"Our aim is always to make Shakespeare as approachable as possible to a first-time, modern audience, so we have updated it and ditched all the togas, sandals and men in skirts," said David.
"But it's a timeless story about a spicy affair between the two most famous people in the world, living out their rowing and their canoodling in public – Burton and Taylor, Tiger Woods and Elin Nordegren or Madonna and Guy Ritchie, but with massive political repercussions thrown in."
Tickets are available in advance or on the gate at each performance. Thursday is at The Lion in Stoke by Clare at 7.30pm (£6), on Saturday it's at The Erskine Centre in Chedburgh at 6.30pm (indoors if wet), on Sunday it's indoors whatever the weather at The Bell at Castle Hedingham at 7pm (£6), on Tuesday it comes to
East Town Park
in Haverhill at 7.30pm (£5) and on Wednesday it's at Hundon Plough at 7.30pm (£6).
At Stoke, Haverhill and Hundon, you need to bring your own chairs, and at Chedburgh and at Haverhill, you can bring your own picnic. Performances continue whatever the weather.

Comment on this story
[board listing] [login] [register]
You must be logged in to post messages. (login now)