Rachel loses cancer fight
By John Clare on Thursday, 31st May 2001.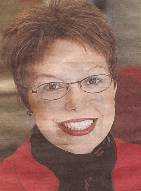 CANCER sufferer Rachel Farrant, who helped and inspired others, has lost her fight for life.
After her death on Friday friends and relatives of the 43-year-old mother-of-two paid tribute to her sense of humour and her determination to help other people suffering from the disease..
Rachel, of Mallow Walk, Haverhill, formed a support group, The Young Ones, for younger women fighting breast cancer. Just days before being admitted to West Suffolk Hospital for the final time she organised a sponsored swim at Haverhill
Leisure Centre
. Although she could not take part, the swim raised more than £500 for the Breakthrough Breast Cancer charity.
Yesterday her friend Helen Scott-Davies pledged to continue the work she had started.
She said: "I was really very desperate when I went to the group and here was this woman who was dressed in red, dressed to kill and looked wonderful and came across as so lively, positive and full of life.
"I made a conscious decision that if she could do it and fight this illness in this way then so could I."
Helen, whose cancer is now in remission, added: "It's a very new group with plans for the future. I'm sure people will want the group to continue in Rachel's memory."
Rachel's mother, Iris Eley of Little Thurlow, said: "I think she suffered a great deal in the last two years but she always kept a brave face on it and cheered everyone else up.
"I'm very proud of her that she showed such great courage and was so good with all the other cancer sufferers. She was fun to the last if you can believe it and never lost her sense of humour."
Rachel leaves behind her husband Nick, and two sons, Daniel, 22, and Robert, 19. Her funeral will take place at Little Thurlow on Friday and she will be buried next to her grandparents.
To get in touch with The Young Ones can call Helen on (01284) 753348, Sue Meader on (01842) 763174, or write to them care of the breast cancer team at West Suffolk Hospital.
The group also has a website at www.youngones.net
CAPTION: Brave fight … mum of two Rachel Farrant who has succumbed to breast cancer after working tirelessly as a fundraiser.

Comment on this story
[board listing] [login] [register]
You must be logged in to post messages. (login now)