Rape attempt man efit issued
By Martin Chapman on Tuesday, 21st May 2002.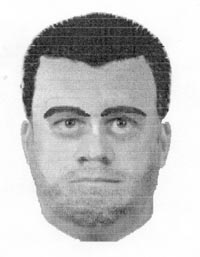 Detectives have issued this efit of a man wanted in connection with a horrific attempted rape of a woman on Friday in Haverhill.
The 52-year-old woman was grabbed from behind and dragged to the floor by a would-be rapist.
Detective hunting the man have said a man was seen "running at speed" from the scene just minutes after the attack which took place around 6 pm as the woman was closing a classroom window.
However they are disappointed with the response from the public to the shocking attack on the woman at Burton End Primary school.
According to Tim Beach who is leading the hunt, only five people have contacted them at Haverhill Police station despite county-wide appeals for the would-be rapist.
Tim Beach said: "It's a reasonably busy area running down to the bottom end of town and I'm sure there were lots of people up and down that road at around 6pm on Friday."
The man attempted to pull the woman's trousers while threatening her with a knife. Police believe he would be left with scratches and marks to the face after the woman bravely lashed out at him.
Jess Long, headteacher at Burton End Primary school spoke of the womans courage in fighting off her attacker.
"She bravely put up a fight and thankfully managed to fight the attacker off."
Mrs Long said the woman was extremely distressed by this incident and was taken to hospital after sustaining a bruised rib and scratches. The woman was fortunate to be able to return home later that evening.
"We have all been shocked by this attack and our thoughts are with her at this time. I ask that anybody with any information about this extremely serious attack contacts the police so that the individual can be caught.
Mrs Long is going to write home to parents to reassure them about security within the school.
The woman's attacker is described as white in his 30s. He is 5 ft 10 in tall with short dark spiky hair. He was unshaven and wearing an off-white or dirty top with grey jogging bottoms.
Anyone with information about the attack is asked to call the incident room on 01284 774100 or Crimestoppers on 0800 555 111.

Comment on this story
[board listing] [login] [register]
You must be logged in to post messages. (login now)