Rare car is a driving force
Thursday, 15th September 1994.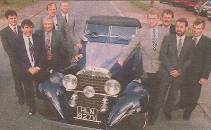 A Cadillac like no other, which was produced in Haverhill, is taking centre stage for the launch of the town's Enterprise 2000 initiative on Wednesday.
The role of the car, (pictured right) as an example of the kind of skill and expertise local industry has to offer, has coincided with renewed interest in it from the motor industry.
It is featured in both the current issue of American Car World magazine and on the front of the Cadillac house magazine in America.
The 1978 Cadillac Seville, modified to look liek a 1930s European classic roadster is fondly known as the Haverhill car.
It was developed as a prototype for a luxury replica roadster and intended to be first of a limited edition of 25 to 50 vehicles. Sadly the collapse of the luxury car market meant it is likely to stay a limited edition of one.
But as an example of excellence the vehicle has passed with glowing colours winning praise from the highest authority Cadillac Motors themselves. The company has an annual turnover of more than £5 billion but has shown great interest in the Haverhill car.
First developed during the 80s boom, the car took 6000 hours, spread over two years, to make and involved no fewer than 18 Haverhill companies.
Business man and Enterprise 2000 director Robert Maidment started the project and his company Courier Products Ltd, owns the vehicle and uses it for promotion purposes.
He has written a book about the project, concentrating on the human trials and tribulations involved, and hopes it will be published soon.
"If we had known before we started what we knew by the end it would never have happened. It was an incredibly complex and lengthy process, involving hours of volunteer management and labour.
"It was a tremendous achievement and it is not just us saying how good it is, it now has the recognition of the motor industry and Cadillac themselves.
"Had it not been for the mixed expertise and enthusiasm available in Haverhill it would never have been made. This is what Enterprise 2000 is all about, showing people jsut what the town has to offer, " Mr Maidment said.
Click To View the Video >>>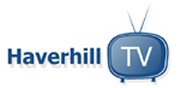 Comment on this story
[board listing] [login] [register]
You must be logged in to post messages. (login now)