Relief Road 'must be given a high priority'
By Jo Deeks on Tuesday, 11th September 2007.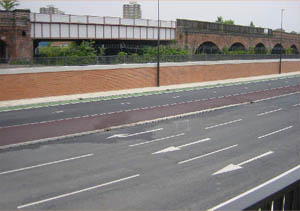 A LONG-AWAITED relief road for Haverhill, taking traffic away from the town centre, looks set to be built sooner than expected. Developers will have to build the whole of the northern relief road linking the main Cambridge and Bury St Edmunds routes within the first phase of a huge 750-home estate rather than in sections as each phase of development goes ahead.
No more than 400 homes can be occupied before the relief road is available for use. Villagers living nearby will also get their wish as developers are to be encouraged to adopt an alternative route for the road, moving it, and some of the adjacent new homes, from higher ground to reduce the visual impact.
Campaigning for the road has been going on for many years, in a bid to reduce congestion in the town centre, which is expected to get worse when a new Tesco store opens on the former station yard site in 2009.
Members of St Edmundsbury Borough Council's Sustainable Development Panel approved a concept statement for the deveopment on Tuesday in which it is stated that the whole road must be built within the first phase of work.
Alan Rand, principle planning officer for the St Edmundsbury Borough Council, said Suffolk County Council's highways department has insisted on this.
Mr Rand said: "The support of the highways department has given us the ammunition we need. They say we need the road before any more houses can be provided. This concept statement is not the vehicle to change the route of the road, but strongly encourages it.
"The route of the road will be set out in the masterplan to be produced by the developers for the area and at that stage we would expect to revised route to be used. It is a common sense solution that simply moves the road from the higher ground."
Residents in the villages surrounding Haverhill feared they would be "swallowed up" by the town when the huge housing development and a new relief road are built.
Councillors were told that the larges number of comments on the development were requests to alter the route of the proposed relief road.
Parish councillors from Great Wratting, Little Wratting, Withersfield and
Haverhill Town Council
, as well as other individuals, felt the line of the road should be lowered so that it, and houses adjacent to it, would be less prominent and not seen in villages some distance away.

Comment on this story
[board listing] [login] [register]
You must be logged in to post messages. (login now)