Research Park developer gives computer centre a boost
Monday, 7th January 2013.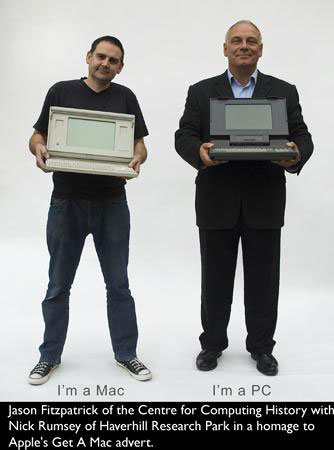 The
Centre for Computing History
has received a significant financial donation from Haverhill Research Park.
This unexpected windfall coincides with the launch of the museum's fundraising campaign in support of its relocation from Haverhill to Cambridge.
Nic Rumsey, development director of Carisbrooke Investments, the developer of the £100m research park situated at the western gateway to the town has taken a keen interest in the museum's progress since its foundation in Haverhill in 2006.
Mr Rumsey said: "As a company involved in developing vision into reality, we are quick to admire grit and determination. Having witnessed the dedication of the team behind this initiative, we are delighted at its success.
"Cambridge, with its superb track record of technological discovery and invention, is one of the most important technology centres in Europe.
"The Cambridge locale, including Haverhill, embraces a large cluster of high-tech companies many of which have direct and indirect links with the University of Cambridge.
"For these reasons, despite its Haverhill roots, it is entirely fitting that the
Centre for Computing History
should be based in Cambridge."
Speaking on behalf of the centre, Jason Fitzpatrick said: "We are deeply appreciative of Haverhill Research Park's ongoing generosity and belief in our endeavours. These funds will be used to support our educational outreach work."
Mr Rumsey said: "Personal computers have had an extraordinary influence on the way we live and the way we view the world.
"Let's face it, early pioneers of computer technology like Steve Jobs and Tim Berners-Lee literally invented the 21st century! We applaud the museum's lead in taking these inspirational stories out to schools across the country."
The museum has attracted sponsorship from several high profile Cambridge tech businesses including super-chip designer ARM Holdings, Microsoft Research and Red Gate Software.

Comment on this story
[board listing] [login] [register]
You must be logged in to post messages. (login now)