Research park entrance road officially opened
Thursday, 10th October 2013.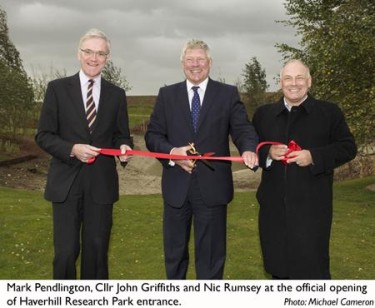 The main entrance road to Haverhill Research Park was officially opened today at a ribbon-cutting ceremony by the leader of St Edmundsbury Borough Council.
It was a symbolic gesture, but it also marked a major milestone in the progress of the research park because both housing developers Taylor Wimpey and pub chain Marstons have completed their deals on the land.
This means the research park developers Carisbrooke have been able to pay back the nearly £5million in loans which allowed the project to get under way.
The two Local Enterprise Partnerships (LEPs)which cover Haverhill - Greater Cambridge Peterborough and New Anglia - had lent £2m each and St Edmundsbury had leant £750,000.
Carisbrooke managing director Nic Rumsey said Taylor Wimpey, who will be building 150 homes on part of the site, had signed the land deal and were already on site.
Marstons had also signed and would be starting on Monday. This had enabled Carisbrooke to pay the money back and the project was now 'in the black' Mr Rumsey said.
New dispaly signs designed for the entrance will be erected soon, and the next stage will be a planning application from Carisbrooke to build the innovation centre which will form the centrepiece of the park.
Mr Rumsey estimated a plan would be submitted to St Edmundsbury planners in four to six weeks.
Cllr John Griffiths, leader of St Edmundsbury council cut the ribbon, with Mr Rumsey and Mark Pendlington of New Anglia LEP.
Mr Rumsey said: "It is very satisfying to complete a key element of the infrastructure with the rest of the park's roads, utilities and landscaping due to be delivered in the coming weeks.
"We couldn't have got this far without the foresight and willingness of St Edmundsbury Council and the two LEPs to back us and we will now be moving ahead with the marketing of the park as a whole."
Cllr Griffiths said: "The opening of the estate road brings the project to a major turning point and I congratulate Carisbrooke, which has pushed tirelessly to bring the park to fruition.
"It shows what can be achieved when local government, local enterprise partnerships and the private sector work together.
"We are now at a point where Haverhill can offer a world-class research park facility at competitive prices to companies having the comfort of a ready-made workforce, housing, education and healthcare facilities - and, of vital importance, only 17 miles south of the world-renowned science and technology hub of Cambridge."
The park will provide a maximum of 450,000sq ft of office/laboratory/technology space and supporting accommodation for a wife spectrum of companies from start-ups to global players.
As well as the innovation centre, Casrisbrooke are working up plans for grow-on space and bespoke buildings, together with a hotel, restaurant and creche.

Comment on this story
[board listing] [login] [register]
You must be logged in to post messages. (login now)