Rob Flies The Flag In A Very Big Way
Thursday, 8th June 2006.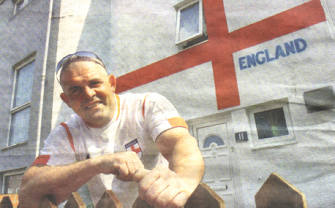 Steel erector Rob Jackson is getting behind the England football team's World Cup ambitions in a big way by painting a huge flag of St George across the front of his home.
Rob celebrates his birthday tomorrow, on the day that the competition begins and was born in the year that England last carried off the trophy in 1966. He says the flag will stay in place as long as england remain in the competition and he is optimistic that it will proudly stay on the walls at Harewood Terrace, Haverhill, right through to the final in July.
"I did it a few weeks ago. It was to do with St George's Day at first because not many people celebrate it and not many English people are patriotic. The pub opposite my house, The Suffolk Punch, celebrates St George's Day and it went down very well with them. Now it is there for the football, to get behind the England team," Rob said.
"I have had no complaints at all, everyone seems to like it, my neighbours all think it's great. They are the biggest football fans and will be watching every game like me.
"I definitely think they are going to win it this year, especially now Rooney is playing, which will boost the whole team. I will leave it up there as long as England are in the competition and I am confident that they are going to go all the way and win it like they did the year I was born.

Comment on this story
[board listing] [login] [register]
You must be logged in to post messages. (login now)