Rocking good times at the showground
By Jo Deeks on Thursday, 6th July 2000.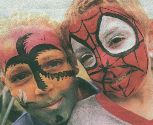 A bumper profit of £3250 is expected from Sundays Haverhill Show, which attracted bigger crowds and had plenty of attractions to offer them.
The show, supported by the Weekly News this year, is the main fund raiser for LAMP-H, the local organisation for adults and children with disabilities. Attendance, estimated at around 3,500, was well up on last year, and show society chairman Chris Hammond was delighted with the result. He said: "As you know, six months ago the Society came very close to folding up and we are delighted that, with the help of our new members who came forward after the tremendous publicity we received at the time, we have had a record year. Live music was a popular new attraction at the show, with Elvis impersonator Paul Lilley and Haverhill band Oblivion taking turns on the stage.
One of Haverhill's senior citizens, 84-year-old Reg Weller, of Shetland Road, entertained the crowds with his rope tricks. Mr Weller took up rope spinning for exercise and to overcome stiffening in his fingers from arthritis.
New Image and Sapphire Majorettes, line dancers and the USAF Police dog team gave displays and 21 mean machines ridden by members of the Fenland Chapter of the Harley Davidson Owners' Club proved very popular.
There was also a dazzling display of wheels in the classic car show, with around 40 vehicles including the lovingly restored 1957 Chevrolet, of Ray Brown from Haverhill.
Plenty of bouncing babes were entered in the baby show and the overall winner was Bradley Portwood, of Haverhill, who also won the 6-12 months section. Twins Charley and Chloe Curtis, of Haverhill, won the 0-6 months section and Tilly Plant, also from Haverhill, one the 12-18 months.
The East of England Tug of War Association again held a contest at the show which attracted teams from Essex, Berkshire, Norfolk and Heathrow.
There was a dog show with 27 entries in 17 classes and a craft fair with more than 30 stalls. An American Civil War re-enactment group visited the show for the first time and there were displays by Haverhill and District Flower Club.

Comment on this story
[board listing] [login] [register]
You must be logged in to post messages. (login now)