Roundabouts world first
By Martin Chapman on Monday, 25th October 2004.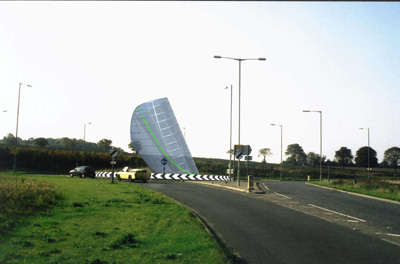 Vision for the future ... how the gateway may look.
The first roundabout in the world to contain a laser will be unveiled on Wednesday 10th November 2004 at 6:30pm.
The sculpture on the gateway roundabout at the entrance to Haverhill from Cambridge will stand over 11 metres tall when revealed to the public.
Richard Herbert, chairman of the Haverhill Enterprise 2000 business group said "the
Spirit of Enterprise
will make a bold statement for the town."
Ahead of the structure's unveiling it will be transported from Haverhill manufacturers Delstar and craned piece-by-piece into position. Enterprise 2000 expect many of the town will turn out to see actress Charlotte Rampling switch on the laser beam, and floodlighting donated by Parkersell.
Locally based Laser Innovations who installed the laser, will then treat spectators to a laser and music show. Richard Herbert emphasised that "This is a proud moment for Haverhill. So many people and businesses have contributed to the project, which has involved the whole community. Importantly it has also been manufactured in Haverhill"
Rob Olins the renowned sculptor was commissioned to create a bold statement for the town. Rob worked with students from the combined Samuel Ward and Castle Manor 6th forms to create concept pieces. These were a major influence on the artist's final design, a bold leaning sculpture of galvanised steel and stainless steel mesh, with a central laser.
Local businessman Christopher Gurteen, whose company has already donated to the scheme, said: "This world class design will generate immense publicity for the town. Love it or hate it, it will be a talking point for years to come."
Charlotte Rampling was born in Haverhill and after her early film success moved to France. She was awarded the OBE three years ago, and was until recently married to Jean Michel Jarre, whose music will form part of the laser show.
The £100,000 project has been financed mainly by businesses operating in the town, who have contributed over £60,000 in cash and in kind, and the project received a £22,500 grant from the Arts & Business East New Partners Scheme.
St Edmundsbury Borough Council were responsible for all the groundwork infrastructure of the roundabout.

Comment on this story
[board listing] [login] [register]
You must be logged in to post messages. (login now)