Rovers lose cup final thriller
By Mark Taylor on Thursday, 11th April 2002.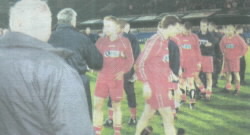 Two crucial mistakes by goalkeeper David Walton cost Haverhill the Suffolk Senior Cup as they lost 4-3 after extra-time to Kirkley at Portman Road.
Walton twice mis-kicked at critical moments — once just after the break and then again at the start of the second period of extra time — to hand Kirkley the cup in a thrilling game.
The defeat was made even harsher by the fact that Haverhill were just four minutes away from collecting the trophy in normal time when a shot from the edge of the box by Kirkley centre-back Stuart Larter took an unfortunate deflection off Rovers' captain Paul Miles to leave Walton with no chance.
An end-to-end match saw both sides hold the lead twice but neither team seemed to want to stay in front.
Paul Goodman's side lost the trophy but they could — and probably should have won.
After picking up a loser's medal, a downcast Goodman said: "I thought we had it in the bag with four minutes to go but when you make that many mistakes in a game maybe you do not deserve to win it
"I thought we played well but that is football. I am very disappointed but we will bounce back and we will learn from it and get better.
"They took their chances well and I thought we could have killed it off a little bit better nearer the end. They showed how to do that and wasted a little bit of time near the end and hopefully we will learn from that."
Anglian Combination side Kirkley were the holders of the cup and went into the game hiving scored 99 league goals this season, with six games left to go.
Although Haverhill started the game off well, it was the holders who took the lead on 15 minutes when Danny Stokeld seized upon a mistake by Rovers' Neil Hammond.
Stokeld forced Walton to pull off a good save but the follow up shot was tucked away by Darren Glynn.
Rovers were back on level terms within five minutes when Ben Cowling was fouled ass the edge of the box and Neil Cogger, who was a constant thorn in the holders' side, stepped up to curl home a free kick into the top corner from 25 yards.
In the 27th minute Haverhill took the lead when Cogger grabbed his second with a low swerving shot past Ian Baiter from just inside area.
Three minutes after half time Kirkley made it 2-2 when Walton came out to clear and completely missed the ball to leave Stokeld
an empty net to score.
Rovers had an immediate chance to regain the lead but Cowling's double effort was well dealt with by Barber.
They did, hr>wever, get back in the lead on 68 minutes as Neil Hammond hit an inswinging cross from the left and Brandt met it with a powerful header at the front post.
Paul Jenkin fired straight at the keeper in the 77th minute when he should have, perhaps, done better but it looked like Haverhill had done enough to win the game before Larter struck to take the final into extra-time.
There were few real chances for either side in the first period but within one minute of the re-start, Simon West scored what turned out to be the winning goal.
Neil Hammond threw the ball in to a Walton from the Haverhill right and the Rovers' keeper made a hash of his kick to present West with a chance he could not miss.
After his second error Walton did pull off a couple of very good saves to prevent Kirldey increasing their lead — they also missed a penalty after Miles had fouled West — but unfortunately for the Rovers' keeper the damage had already been done.
Team: Walton, Hammond (Hunt 107), Hunt, Hammond (Holmes 110), Fitzpatrick, Brindley, Miles, Cowling, Jenkin (Green 85), Brandt, Cogger. Subs not used.' Catten and Duke.
CAPTION: Disappointed … Rover's players line up for their runners up medals after Tuesday night's game.

Comment on this story
[board listing] [login] [register]
You must be logged in to post messages. (login now)