Royal approval for councils sharing offices
Tuesday, 30th October 2012.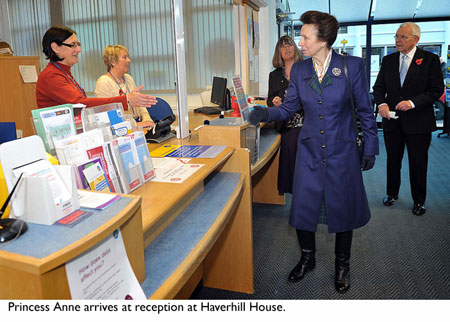 Princess Anne's last port of call on her visit to Haverhill was Haverhill House, the newly-refurbished and shared council offices in Lower Downs Slade.
The Princess Royal officially opened the refurbished building now being shared by two local councils and the voluntary sector.
On a tour of Haverhill House, the Princess Royal met staff working for Suffolk County Council, St Edmundsbury Borough Council and the Citizens Advice Bureau - before unveiling a plaque to mark the day.
Haverhill House was identified as a building in which the public sector could work side-by-side because it was already owned by St Edmundsbury and offers an ideal high street location from which to provide services to the public.
Following refurbishment, county council staff from Camps Road and the Burton Centre moved into the building on July 1.
Now, people in Haverhill and the surrounding area looking for assistance with environmental health matters, housing, benefits, debt advice, children's services and home care only need to visit one place to get the help they need.
Cllr Lisa Chambers, the county council's cabinet member responsible for property, said: "It was wonderful to have tThe Princess Royal visit Haverhill House today and for her to see first-hand how public sector and voluntary organisations can work together.
"It is our duty as public organisations to ensure we save money and make the most efficient use of resources that we can. Sharing buildings with partner organisations is a key way of doing this, and at the same time reducing the carbon footprint left by our work.
"Creating a single public sector estate is a policy Suffolk County Council is fully committed to and Haverhill House is a great example of it in action."
Cllr Anne Gower, St Edmundsbury's cabinet member for Haverhill, said: "Haverhill House provides a base for voluntary services and council services, all under one roof.
It is an example of how we work together in the town. We have confidence in one another and in our future. It is an honour that Her Royal Highness has officially opened the newly-refurbished and renamed building and I am glad that we have been able to give her a glimpse of the potential of our town."
Jane Ballard, chief officer of the Suffolk West Citizens Advice Bureau, said: "As our national patron, we were delighted to welcome the Princess Royal to Haverhill House.
"We were really impressed by her detailed knowledge of how the Citizens Advice Bureau operates and her appreciation of the work done by our volunteers.
"It was wonderful to introduce the princess to our staff so that she could talk to them all individually. Recruiting volunteers is a significant piece of work for us and we spent a lot of time talking about our recent campaign."
The county council move has meant the authority is able to close its Camps Road facility and relocate staff from the Burton Centre. The move will save the public sector £50,000 a year in running costs and help Suffolk County Council to avoid £100,000 in maintenance costs.
The refurbishment will also help reduce both councils' carbon footprint. The Burton Centre will continue to be used for the benefit of the local community.
To see a gallery of our pictures of Princess Anne's visit, go to: http://www.haverhill-uk.com/cgi-bin/sitewise.pl?act=sect&s=2549

Comment on this story
[board listing] [login] [register]
You must be logged in to post messages. (login now)