Royal visit crowns the 30th anniversary celebrations for Genzyme
Tuesday, 30th October 2012.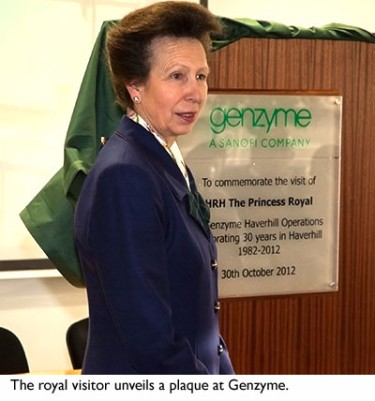 The royal visit crowned the day for staff at Genzyme's Haverhill site who gathered together in celebration to mark 30 years of success, growth and innovation.
Acquired by Genzyme in 1982, significant investment has ensured the continued expansion and development of the site, securing Genzyme's place as a leader within the pharmaceutical and biotechnology industry.
To mark the occasion Haverhill welcomed Princess Anne today in the site's first official royal visit.
The Princess was keen to find out more about Haverhill's achievements as well as its extensive commitments to employees, the local community and the surrounding area.
Celebrations will continue throughout the week and culminate in a site fun day on Friday.
General manager Matthieu Cortinovis said: "This 30th anniversary is a hallmark of the commitment and dedication shown by our staff over the years.
"Bolstered by substantial capital investment, the site has undergone significant growth, affirming our position as a leading company in the pharmaceutical and biotechnology industry.
"We have developed a real sense of community here at Haverhill and I am immensely proud of our commitment to delivering treatments that impact positively on the lives of patients."
The celebration day brought together staff from across the site, as well as representatives from local schools, businesses and charitable organisations, to celebrate this key milestone and share in the valuable contributions the
site makes to both the pharmaceutical industry and the local community.
Attendees enjoyed a tour of the site and had the opportunity to witness first-hand the innovative technologies that have been developed by site employees in recent years.
They also met with some of the longest-standing members of staff, some of whom have been with the company for 30 years, and heard first hand from patients about how the site has contributed to making real and positive differences to patients' lives.
Quality director Chris Homan said: "Staff across the site have been driving the development of some of the most innovative technologies in the sector, helping us to deliver our products and services to the highest quality while utilising optimal operating practices in safety, quality and efficiency.
"We are delighted to be able to showcase our work and demonstrate how we are making a real difference to the lives of patients on the ground."
HR director John Gamston said: "As a successful company, we recognize that success stems from an engaged workforce who have opportunities to continually learn, develop and achieve.
"As we continue to develop, we look forward to providing new opportunities not only for our existing staff, but also for the people of Haverhill and the surrounding areas.
"As we move to the future, we are looking forward to building on our existing heritage and making the next 30 years as successful as the first."
To see our gallery of pictures of Princess Anne's visit to Haverhill, go to: http://www.haverhill-uk.com/cgi-bin/sitewise.pl?act=sect&s=2549

Comment on this story
[board listing] [login] [register]
You must be logged in to post messages. (login now)