Rule exploitation takes edge off game
By Jim Morgan at Sudbury Rugby Club on Monday, 16th April 2012.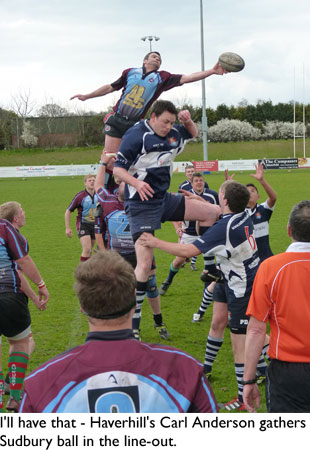 SUFFOLK MERIT LEAGUE, DIVISION ONE: Sudbury Talbots 31 Haverhill 1st XV 21. Match report
Haverhill travelled to Sudbury to play their Talbots team and were beaten before it started due to a quite dubious situation presented by the home team.
Sudbury claimed to only have 13 players and therefore could not field a full scrum front row and thus it would be uncontested scrums from the start of the game.
Uncontested scrums mean that there is no pushing in the scrum and the ball is always won by the side putting the ball in. For Haverhill, this removed a whole facet of their game and having travelled with a strong scrum, it made this advantage useless.
At kick-off, Sudbury actually fielded a full 15-player team with two substitutes on the touchline. However, knowing that they were going to refuse to play contested scrums filled the team with running back players, as there was no danger of injury in the set piece.
Haverhill camped on the Sudbury line for the whole of the first half except for two Sudbury excursions into the Haverhill half but, where they would have pushed over the scrum to score, they were not able to and fast defence, as binding in the scrum was only token, allowed Sudbury to defend.
On four minutes, super-quick ball involving the Talbots scrum and backs led to an unconverted try in the corner and a speculative kick out of their 22m on 25 minutes allowed a few fly kicks and their flying pack and backs to score a converted runaway try for 12-0.
Haverhill tried everything they could to score, dropping the ball on the line a few times, or letting the final pass slip out of their hands but, on the stroke of half-time, Gavin Hope charged down a clearance and scored in an England-like manner to bring the score back to 12-7 on half-time.
Some good individual performances from young players Harry Marsh and Dan Curtis showed the bright future for the club.
Haverhill took the lead on 50 minutes after a quick penalty saw Mark Jury releasing Chris Flannery for a score, converted by Jury for 12-14
When the opposition has runners completely across the team, then open ball will always be tough to defend and on 54 minutes, a quick penalty was swung wide across the extended line for a try in the corner and 17-14.
Five minutes later another full line move allowed a crossing in the corner but touched down under the posts for 24-14.
Paulo Nash nearly intercepted a flowing Sudbury move on 65 minutes, when it would have been interesting to see the 75-metre run to touch down, but the ball went to floor.
Haverhill again camped on the Sudbury line for the last 15 minutes, but some unlucky handling and good defending held them out until four minutes from time which saw a flying Jury released by Hope to score and convert for 24-21
Haverhill hoped for another score to even or win the contest, but on the stroke of time and Sudbury scrum saw the ball spun quickly out and a final score and conversion for 31-21.
The league Haverhill has played in this year allows for uncontested scrums, unlike the Eastern Counties league.
It is part of an ethos that it is better to play some rugby rather than no rugby. However, when a team cynically exploits this, gaining untold advantage over their opposition by being able to field a totally different side, then your reporter feels that sanction should be applied in situations like this.
In 2012-2013 Haverhill will not have to play rugby against clubs who field sides who play in much higher leagues but who happen not to have a game that week, or sides that deliberately exploit a concession designed to protect players but ensures a game is played to their unfair advantage.
Haverhill travel to Southwold for the huge 3pm kick-off in the semi-final game of the Suffolk Plate on April 21. A coach leaves the club at 11am and there are spaces available if people fancy a day out. Contact the club through the Facebook page or website www.haverhillrfc.co.uk.

Comment on this story
[board listing] [login] [register]
You must be logged in to post messages. (login now)