Runaway win for young golfer Boyles
Tuesday, 3rd August 2010.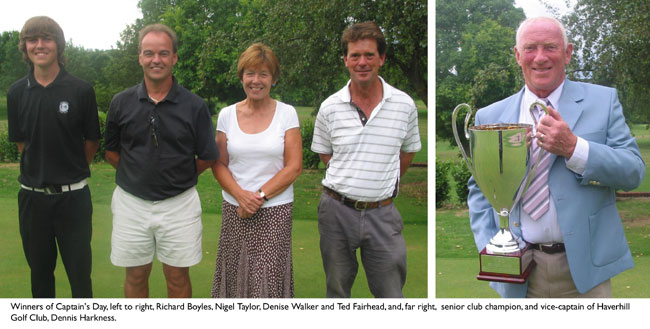 Haverhill Golf Club juniors played in the Waddup Windows Medal event on Monday, July 26, and Stephen Boyles had a runaway victory by five shots, scoring a fantastic 84-21-63, resulting in a reduction of his handicap by two shots.
In second place was Chris Vince with 72-4-68 and in third place, James Higham with 96-27-69.
On Tuesday, July 27, the Haverhill juniors were through to the final of the Suffolk Junior Handicap Cup against Thorpeness, at Stowmarket.
It was an extremely close final, that resulted in a draw (three wins each), forcing a sudden death play-off for the team captains.
Haverhill junior captain, Chris Vince, had to relinquish a shot to his opponent on the third play-off hole, and his opponent duly took the advantage to claim the overall victory.
The Haverhill team were: Liam Merritt, Chris Vince (captain), Stephen Boyles, Lewis Whiting, Richard Boyles and Ellis Brown. All players from both teams were congratulated on a very sporting and courteous match.
The July IFF Challenge, played on Wednesday, July 28, saw close scores across the divisions, however Mel Stuart just took the overall win with a nett 65.
The full results were: Division One, 1 Mel Stuart 72-7-65; 2 Peter Garner 79-12-67; 3 Peter McLennan 81-12-69.
Division Two, 1 Dave Cohen 79-13-66; 2 Lyndon Brown 84-16-68; 3 ce Mark Carpenter 87-18-69.
Division Three: 1 Ken Johnson 93-27-66; 2 Bob Spittle 93-25-68; 3 Roger Hartley 99-27-72.
The ladies played their second major of the year, The Shrubberies on Thursday, July 29. The competition was played as a pairs, 4BBB event.
It was a very closely fought contest with Judy Farren paired with lady captain Sally Price, winning on countback with a fabulous 46pts from second-placed Lyn Fish and Sheila Price with 46pts. In third place were Catie Heathfield and Ann Thompson with 41pts.
The Seniors Club Championship was held on Tuesday 27th with 77 seniors taking part. Winning the scratch competition was vice-president, Dennis Harkness, with a tremendous round of 74-6-68, just beating second-placed Eamonn Bareham, the defending champion, by one shot with 75-6-69.
In third place was Gerry Scott with 79-7-72. The handicap competition was won by Bob Campbell with an impressive 85-20-65, while in second place was Frank Robertson with 85-18-67 and in third John Stokes with 83-16-67.
The Veteranís Cup (for over 70s) was won by John Condon on countback, with a great score of 89-23-66, from second-placed George Lawrence with 86-20-66.
The seniors have had mixed results in their interclub matches recently; unfortunately they lost their away fixture at The Suffolk on July 29 6-2. They won both their home fixtures against Royston on Friday, July 23, by 4Ĺ-3Ĺ and against Stowmarket on Friday, July 30, by 5-3.
Club captain David Chapman hosted his Captainís Day on Sunday, August 1. The event was very well supported with a field of 110 competitors from the mens, ladies and junior sections, playing a stableford format, off 7/8th handicap.
Winning the menís low division was Ted Fairhead with 40pts, in second place Peter Driscoll with 39pts on countback from third-placed Gordon Price with 39pts.
Winning the high division was Nigel Taylor with 42pts, in second place Dave Nicholas with 39pts and in third place Andy Gill with 37pts.
The ladies' section winner was Denise Walker, who also celebrated an eagle on the 15th, which boosted her score to 40pts, in second place Lyn Fish with 33pts and in third place lady captain, Mrs Sally Price with 32pts.
The junior section was won by Richard Boyles with 38pts, in 2nd place Ellis Brown with 35pts and in 3rd place Charlie Sigler with 34pts.
Nearest the pin for the menís low division, on 16th Matthew Robinson, for menís high division on 2nd Richard Peck and ladies on 8th Karen Wilby. The funds were raised for the Captainís Charity, Action for Children, and David Chapman thanked everyone who helped with organising the day and everyone who gave their support.

Comment on this story
[board listing] [login] [register]
You must be logged in to post messages. (login now)