Runner Kirsty is all set for her big day
Tuesday, 13th April 2010.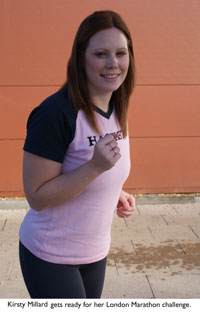 Haverhill
Leisure Centre
receptionist Kirsty Millard has already raised more than £2,000 in pledges for her London Marathon run to help a charity that encourages children with disabilities to take up sport.
Thanks to people who use the centre regularly, family and friends, Kirsty has already reached her target sponsorship.
To help get there a raffle was held at the centre to raise money and prizes were donated by local companies including Subway, Frankie & Bennys, Cherry Tree Butchers, Cambridge United FC and Abbeycroft Leisure.
To prepare for the London Marathon Kirsty, 26, has called on the help of Haverhill hypnotherapist Peter Doherty at Haverhill Physiotherapy Clinic to get her in the right mindset for the challenge. She hopes to complete the 26-mile course in under five hours.
Kirsty started running last year to lose weight after having her son Freddie. Having never run before, she followed the Rosemary Conley running programme to gradually build up her stamina.
In June she ran the 5k Race For Life in Bury St Edmunds in just 29 minutes and in October she ran the Cancer Research UK 10k from Ickworth House with her husband Kevin.
She has been training three times a week since November for the marathon, completing two short runs and one long run each week, each time adding an extra mile.
She will follow in her granddad's footsteps in completing the London Marathon on April 25, to help Get Kids Going, a national charity which gives disabled children and young people the opportunity of participating in sport.
Kirsty, who lives in Recreation Road, said: "Visitors to Haverhill
Leisure Centre
and local businesses have been fantastically supportive of my fundraising for Get Kids Going. I'm really excited about running in the London Marathon for the first time and can't wait to cross the finishing line."
Dominic Greenwood, general manager of the
Leisure Centre
, said: "We are all very proud of Kirsty and the money she has raised to support children with disabilities taking up sport. We will be tuning in to the marathon to see if we can spot her on the big day."
There's still time to sponsor Kirsty. Just pick up a sponsorship form at Haverhill
Leisure Centre
or leave a donation in the collection boxes in reception and in Kid City.
Further details on Kirsty's marathon challenge can be found at the Haverhill
Leisure Centre
website at www.acleisure.com.

Comment on this story
[board listing] [login] [register]
You must be logged in to post messages. (login now)