Scouts show how to go green for next year's Noel
Thursday, 13th January 2000.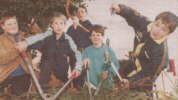 SCOUTS at Kedington have again been helping to keep festive celebrations environmentally friendly, by recycling Christmas trees.
The annual event in the churchyard is jointly organised by Scouts from the village and three warden Dr David Steel.
They hire equipment to produce mulch from unwanted trees, then sell the mulch to gardeners to offset the cost.
Their two-hour session included the tree removed from the top of the tower of historic St Peter and St Paul's Church, as well as another from inside the building.
The churchyard was quite busy on Saturday morning as members of the Kedington History Group began the task of recording names from grave stones there under the supervision of village historian John Pelling.
Picture Caption: Going green . . . 1st Kedington Scouts in action, from left, Andrew Smith, 11, Ben Everitt, 11, Paul Smith, 13, Paul Brown, 13 and Tom Everitt, 11.

Comment on this story
[board listing] [login] [register]
You must be logged in to post messages. (login now)