Scroll on the road
Thursday, 13th July 2000.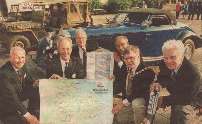 A parade from Haverhill, organised by the town's Royal Air Force Association, got a hearty send-off from the Market Square as it left for Newmarket.
A Haverhill-based car, a luxury 1930s-style Courier Cadillac, was driven by Rob Maidment and carried Eddie Wheeler, Haverhill RAFA branch president, as his passenger.
Mr Wheeler was carrying a special scroll, which is being transported around the country from one RAFA branch to another, using various unusual forms of transport. It arrived in Haverhill from Sudbury and was handed over by branch chairman Ron Pearson at Newmarket.
The scroll is due to visit every branch in the country of the RAFA as part of the celebrations for the 60th aniversary of the Battle of Britain.
So far, it has been carried in a canoe, a plane, a police car and a steam engine.
The Haverhill car was custom built by no fewer than 18 companies in the town and is one of a kind. It is owned by a syndicate of enthusiasts who allow it to be used to boost the town's profile.
When the local RAFA branch was looking for an unusual form of transport to take part in a national project to take the scroll around the country, the car fitted the bill perfectly.
Town mayor Gerry Kiernan and his predecesor Angela Millar were there to see the parade off and a crowd of 40 to 50 people gathered to see it.
Also in the convoy were two wartime jeeps, a large truck and three motorcycle outriders.
Mr Eddie Wheeler, 80, Haverhill RAFA branch president, who carried the scroll, was most impressed with his journey in the car.
He said: "We were really travelling in style. We did get a good send off and people came out to see us at the villages along the way."

Comment on this story
[board listing] [login] [register]
You must be logged in to post messages. (login now)