Second fire breaks out at Castle Hill
Wednesday, 6th June 2012.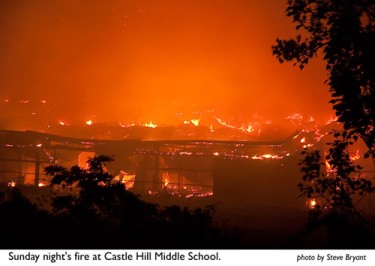 Firefighters from Haverhill were called Castle Hill Middle School again last night, just two days after the major fire there on Sunday night.
Smoke and flames were seen to be coming from a section of school, which is derelict and was awaiting demolition.
Haverhill's crews were in attendance around 7.15pm and found a small fire in the roof of the sports hall, which they extinguished.
While Haverhill were in attendance, Wickhambrook's fire crew stood by at Haverhill fire station.
The causes of Sunday's fire are still being investigated by police.
Meanwhile, one of Haverhill's county councillors has heavily criticised the council for failing to either demolish or secure the site.
Cllr Anne Gower said: "I've been pushing for this to be demolished for ages and there has just been one excuse after another.
"I was told it would be done starting on May 15 and when I asked again why it hadn't been started I received an e-mail on Friday saying it couldn't be done because the utilities were still connected.
"No one has mentioned the utilities before. When I move house I can get this done on a particular day - it isn't rocket science.
"The fire officer at the scene told me he was amazed they were still connected.
"So I have asked for an investigation into what went wrong. We were very lucky that the rain dampened down the asbestos from the building or it could have been a lot worse.
"Residents were very unhappy about how the fire was allowed to happen when I spoke to them on Monday morning.
"As for the one last night, I fail to understand how anyone could go into a place that was as dangerous as that.
"It is such a shame that this will overshadow all the wonderful things that have happened in the town over the weekend.
"People have said so many good things to me about what the town council has done to make the town look good and about the activities put on over the weekend, and it's hugely disapointing that that has been overshadowed."

Comment on this story
[board listing] [login] [register]
You must be logged in to post messages. (login now)