Second Major Bank Sponsors Haverhill Chamber Business Awards
Monday, 7th February 2005.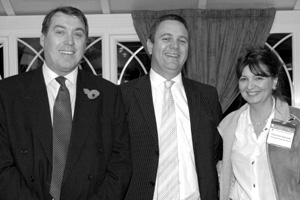 Lloyds TSB Corporate have become the second major bank to take up a sponsorship package in the Haverhill Chamber Business Awards 2005. Lloyds have decided to demonstrate their confidence in the town's business by sponsoring the 'Export Achievement Award'. This Award is open to all companies, within a 10 miles radius of Haverhill, who have actively exported abroad for at least two years, as at 30th July 2004.
Such a high profile sponsor is excellent news for the large numbers of companies in the area, which enjoy healthy, export figures.
Paul Donno, Haverhill Chamber Chair said, "This Award will focus the spotlight on organisations, which are successfully opening and retaining new markets in the global arena. These companies consistently reach the highest standards of business excellence in order to achieve in such a lively and competitive environment."
Mike Denning of Lloyds TSB Corporate stated, "Given our comprehensive and sophisticated range of international services, Lloyds TSB Corporate is delighted to sponsor the Export Achievement Award. We continue to work with local companies across a range of industry sectors that are either trading successfully in, or wish to trade in, international markets."
Lloyds TSB will join an ever-increasing list of sponsors who are helping to highlight business in the town through sponsorship of the Awards. These include BT, Barclays Bank, Vibe FM, Carisbrooke Alliance and Haverhill's own IFF, Risk & Safety Solutions and Printwise.
The call for entries and nominations for the Awards has now begun. Organisations can enter on their own behalf or can be nominated for entry. Entry forms can be completed online or downloaded from the Chamber website on www.haverhillchamber.co.uk

Comment on this story
[board listing] [login] [register]
You must be logged in to post messages. (login now)