Sigma-Genosys Sponsors 'Business of the Year' in Inaugural Awards
By Elaine Collins on Monday, 7th February 2005.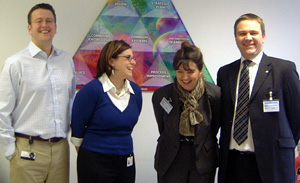 Lord Sainsbury, Minister for Science and Innovation, when opening the new Sigma-Genosys site last year, commented: "I have known Haverhill for forty years and forty years ago you would not have described it as a dynamic or very high-tech area. You would have described it as the opposite. This is very exciting for Haverhill. It is expanding in exactly the right direction."
Now, just a few months later, Sigma-Genosys have clearly demonstrated their commitment to the town, through their decision to sponsor the 'Business of the Year' category in Haverhill's inaugural Business Awards.
Jonathan Pierce, Head of Sigma-Genosys' operations in Europe, said: " Sigma-Genosys is a global leader in the manufacture of speciality products for the molecular biology market. It is part of Sigma-Aldrich Corporation a leading Life Science and High Technology company.
"Following our move to Haverhill just over a year ago we have continued to thrive and see our business grow. With Cambridge on our doorstep we recognise the importance of promoting Haverhill businesses to ensure that we retain and attract the local talent. The HCCI Business Awards is an ideal opportunity to increase Sigma-Genosys exposure within the local community and also recognise those companies who have demonstrated excellence. Sigma-Genosys is very proud to sponsor the Business of the Year Award."
The company have recently joined the Haverhill Chamber of Commerce and HR Officer, Gina Bognanno, will be playing an active role in organising the Awards Ceremony and Gala Ball on May 21st.
Chamber representative, Charmaine Symonds said: " We are delighted that Sigma Genosys, a company that has after all only been in the town a number of months, should have sufficient faith and confidence in Haverhill to sponsor such an important award.
"Sigma Genosys is an example of an organisation that doesn't just take from the community. They also give back with both their financial support and with time. They are a dynamic company, with an excellent reputation in their field.
"As Lord Sainsbury said, we are living through exciting times in Haverhill. The Chamber believes that it is exactly right that a company of Sigma's calibre and vitality should be at the heart of these developments."
The 'Business of the Year' Award is open to all organisations from both the private and public sector, from small private companies to multi-nationals. The judging panel will be looking for evidence of all-round business excellence and outstanding performance.
Winners will receive widespread publicity, a prestigious award and be honoured at a Gala Ball on 21st May 2005.

Comment on this story
[board listing] [login] [register]
You must be logged in to post messages. (login now)